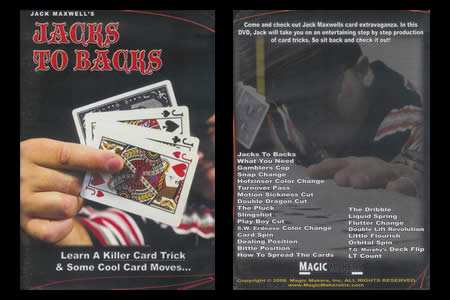 Descripción
Vous êtes prêt à affronter l'excentricité de Jack Maxwell? Au fil de ce DVD, Jack vous propose de suivre étape par étape la réalisation de surprenants tours de cartes. Asseyez-vous et admirez !
La technologie DVD simplifie l'apprentissage de ces tours ! Faites des pauses, rendez-vous directement à certaines explications spécifiques… vous maîtriserez ainsi facilement les bases de ces tours de cartes.
Au sommaire :
Jacks To Backs

What You Need

Gamblers Cop

Snap Change

Hofzinser Color Change

Turnover Pass

Motion Sickness Cut

Double Dragon Cut

The Pluck

Slingshot

Play Boy Cut

S. W. Erdnase Color Change

Card Spin

Dealing Position

Bittle Position

How To Spread the Cards

The Dribble

Liquid Spring

Flutter Change

Double Lift Revolution

Little Flourish

Orbital Spin

T. G. Murphy's Deck Flip

LT Count


Langue: Anglais.

Volver al catálogo
Este artículo ya no se vende en Magicaplanet