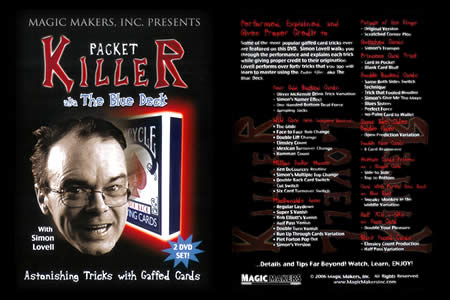 Descripción
Simon Lovell vous promène au gré de ses tours et vous explique chaque routine en donnant à chacune un caractère bien particulier.
Lovell réalise une quarantaine de tours qu'il vous propose d'apprendre à réaliser avec le Packet Killer, alias Le Blue Deck. Ses astuces et conseils rendent les tours encore plus intéressants ! Ce double DVD est livré avec un jeu de carte special complet vous permettant de réaliser tous les tours
Au sommaire :
DVD 1

+ Four Odd Backed Cards
- Oliver McKensie Drink Trick Variation
- Simon's Namer Effect
- One Handed Bottom Deal Force
- Jumping Jacks

+ Wild Card (With Complete Routine)
- The Glide
- Face to Face Rub Change
- Double Lift Change
- Elmsley Count
- Mexican Turnover Change
- Hamman Count

+ Million Dollar Monte
- Ken DeCourcey Routine
- Simon's Multiple Top Change
- Double Back Card Switch
- Cut Switch
- Six Card Turnover Switch

+ MacDonald's Aces
- Regular Lay down
- Super S Vanish
- Bob Elliott's Vanish
- Half Pass Vanish
- Double Turn Vanish
- Run Up Through Cards Variation
- Piet Forton Pop Out
- Simon's Version

+ Parade of the Kings
- Original Version
- Scratched Corner Ploy

+ Switched Cards
- Simon's Transpo



DVD 2

+ Princess Card Trick
- Card in Pocket
- Blank Card Bluff

+ Double Backed Cards
- Same Both Sides Switch Technique
- Trick that Fooled Houdini
- Simon's Give Me The Mayo
- Blues Sisters
- Perfect Force
- No-Palm Card to Wallet
- Easy Card to Wallet
- Ghost of a Chance

+ Same Both Sides Double Facer
- Open Prediction Variation

+ Double Face Cards
- 8 Card Brainwave

+ Multiple Cards Printed on a Single Card
- Side to Side
- Top to Bottom

+ Card With Partial Red Back on Blue Back
- Sneaky Monkey in the Middle Variation

+ Card With JD's on Back
- Jack on The Run

+ Half 7C's & 5H's on Face Card
- Double Your Pleasure

+ Blank Faced Cards
- Elmsley Count Production
- Half Pass Variation


Langue: Anglais, 2 DVD, 1 Jeu de cartes spécial.




Volver al catálogo
Este artículo ya no se vende en Magicaplanet