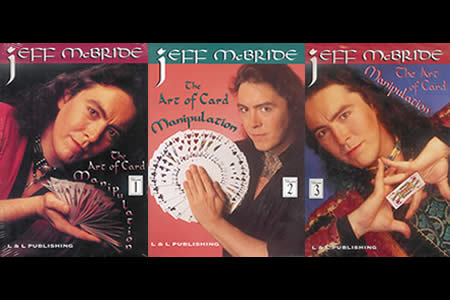 Descripción
Jeff McBride
es uno de los más grandes manipuladores del mundo. Fue nombrado 'Mago del año' por el Magic Castle de Hollywood.
Después de más de 20 años, Jeff es super conocido en el mundo y no tiene rival en lo que a cultura mágica se refiere.
¡¡¡Conviértete en un PRO de las manipulaciones de cartas de escenario!!! Jeff McBride te desvela los mayores secretos de este arte.
Este lote reúne los 3 DVD Card Manipulación de Jeff Mc Bride. Para que lo sepas todo sobre la manipulación de cartas en el escenario, de la A a la Z.
No habrá secretos para ti.
DVD The art of Card Manipulación.vol 1
CONTENIDO :
Basic Color Change

Thumb Fan and Closing a Fan

Pressure Fan

Charlier Cut

One Handed Fan – S Fan

Wink Change

Springing the Cards

Waterfull Shuffle

Cards from the Mouth

Blank Fan

Window Change

Ed Marlo Snap Change

Ken Brooke Single Producción

Perfect Producción

Snap Producción

Back Palm Productions

Pivot

El Paul Spread

Hip-Hop Pop-Out

Ribbon Spread and Turnover

Twin Peaks

D'Amico Multiple Shift

Steve Beam's Auto-Magic Aces

Goldston's Card Flower

Roy Benson Move.
Una serie increíble !!!
DVD en inglés.
DVD The art of Card Manipulación.vol 2
CONTENIDO :
Cardini Single Producción

Thurston Five-Card Vanish and Reproduction

Preparing the Cards - Best Cards to Use

Split Fan Productions

Front Hand Split

Cards From the Silk

Gloves and Cards

Body Loads and Steals - Clips-Vesting

Acquitments - Reverse Benson Move

Flying Cards

Arm Spreads and Turnover Spread and Catch

Cardini's Bluff Spring - Waterfall Fan

Color Fanning - Color Changing Fan

Double Fan - Splitting the Fans

Rising Sun Fan

One-Hand Circular Fan

Windshield Wipers - Slow Motion Fans

4 Ways to Fan a Fanning Deck

Double Tier Fan (Giant Fan) Wheel of Cards

Ganson's Glued Deck Versión

Challenge Card Fan Producción - Garcia

Packet Vanish
¡¡¡Una serie increíble!!!
DVD en inglés.
DVD The art of Card Manipulación.vol 3
CONTENIDO :
One Handed Shuffle

Triple Cut

Paul Draylin Cut

Butterfly Cut

Curly - Q Move

Auto Cut - Rolo - Deck

Boomerang Card

Card Spinning

Garcia's Eclipse Producción

Card Producción

Japanese Card Producción

Del Rosso Buffo

Garcia's Million Dollar Producción

Cardini's Cards and Silk with Tenkai Palm

Packet Vanish; Single Card Producción

Squeeze Producción

Card Producción Rutina

Euro Edge - Palm Producción

Tenkai Toss Vanish and Transferb

McBluff Producción

Mercury Card Producción

Diminishing Cards

Interlock Producción

History of Playing Cards.
¡¡¡Una serie increíble!!!
DVD en inglés.

Volver al catálogo
Este artículo ya no se vende en Magicaplanet