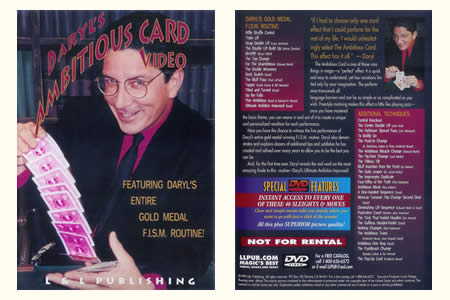 Descripción
The Ambitious Card est une perle rare de la magie, - un effet « parfait ». Un tour de compréhension facile et rapide, dont les limites seront celles fixées par votre imagination.
La réalisation transcende la barrière linguistique et sera simple ou compliquée selon ce que vous désirerez en faire. Le côté « freestyle » de la routine transforme ce tour à la façon d'un morceau de jazz : une fois que vous maîtrisez le thème de base, vous pouvez jongler de manière à créer votre propre style différent selon chaque présentation.
Vous avez ici le privilège d'être le témoin en direct du célèbre tour de Daryl qui, par le passé, lui a permis de remporter le championnat de la F.I.S.M. Daryl vous propose également des douzaines de conseils et subtilités qu'il a créés et améliorés tout au long de ses années de pratique dans le seul but de vous permettre d'évoluer. Et pour la toute première fois, Daryl nous révèle tous les secrets de son final étonnant pour sa routine - Daryl's Ultimate Amibition Improved !
Sommaire :
Daryl's Gold Medal F.I.S.M. Routine

Riffle Shuffle Control

Triple Lift

Snap Double Life (Larry Jennings)

The Double Lift Build Up (Verne Chesbro)

Brrrrtttt! (Bruce Elliott)

The Top Change

For The Unambitious (Edward Marlo)

The Double Whammo

Deck Switch (Daryl)

The Bluff Pass (Paul LePaul)

Topper (Frank Garcia & Bill Spooner)

Tilted and Turned (Daryl)

Up the Falls

Thin Ambitious (Daryl & Edward G.)

Ultimate Ambition improved (Drayl).

Additional Techniques
Control Knockout; The Center Double Life (Jack Avis); The Hofzinser Spread Pass (J.N. Hofzinser); To Boldly Go; The Push-In Change (A. Roterberg, Hatton & Plate, Frederick Braue); The Ambitious Miracle Change (Edward Marlo); The Tip-Over Change (Jack Merlin); The Tiltless Tilt; Bluff Insertion from the Front (Irv Weiner); The Daily Leaper (Dr. Jacob Daley); The Impromptu Duplicate; Four - Fifths of the Truth (Phil Goldstein); Ambitious Movie (Roy Walton); A One-Handed Sequence (Daryl); Mexican Turnover Top Change Second Deal (Daryl); Diminishing Lift Sequence (Edward Marlo & Daryl); Flustration Count (Brother John Hamman); The Trick That Fooled Houdini (Dai Vernon); The Gaffless Houdini-Fooler (Daryl); Nothing Changes (Rick Anderson); The Ambitious Twins (Frederick Braue, Jean Hugard, Daryl); Ambitious One Way (Daryl); The Paintbrush Change (Stanley Collins & Dai Vernon); The Pop-Up Card (Frederick Braue).


Langue : Anglais




Volver al catálogo
Este artículo ya no se vende en Magicaplanet