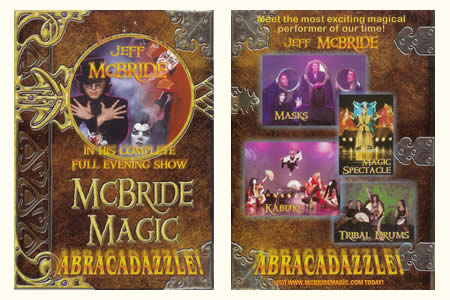 Descripción
Vous avez certainement déjà pu apercevoir quelques morceaux des spectacles de Jeff McBride à la télévision à l'occasion d'émissions sur la magie (notamment sur des chaînes étrangères comme The World's Greatest Magicians (NBC), Champions of Magic (ABC), The Art of Magic (PBS) and Mysteries of Magic (TLC)).
Vous avez même peut être vu McBride's en spectacle.
Nous somme heureux de vous annoncer que vous pourrez voir l'intégralité de son spectacle « Abracadazzle ! » présenté au Casino Claridge d'Atlantic City, filmé sur trois jours avec plusieurs caméras.
Le spectacle est un condensé des meilleures performances de Jeff McBride's comprenant notamment tous ses « meilleurs succès ».
Le DVD comprend également une présentation McBride.
Durée :
60 min.
Langue :
Anglais.
Dvd NTSC

Volver al catálogo
Este artículo ya no se vende en Magicaplanet