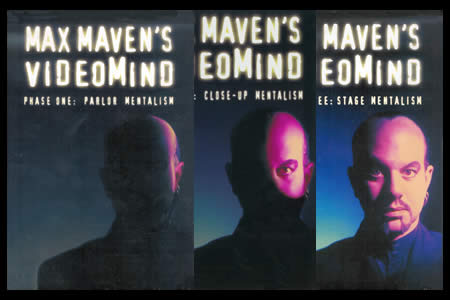 Descripción
Max Maven
puede leer en ti como en un libro abierto. Este increíble maestro del mentalismo nos da el privilegio de comprender y aprender este arte brindándonos
toda su experiencia en estos 3 DVDs.
Contenido de los 3 DVDs:
Dvd 'Max Maven's Videomind phase 1'
Observa la performance de
Max MAVEN
. Entenderás por qué
Entertainment Tonight
le ha calificado de «maestro del mentalismo», y el
New York Daily News
ha dicho « Este tipo puede leerte como puede leer un libro abierto ». Además, Max se reune con
Eugène BURGER
en una entrevista en la que los secretos se revelan.
CONTENIDO :
The Mockingbird
Un extracto de la fábula "Las aves de presa". Una demostración de telepatía con cartas.


Autome
Un libro extraordinario con dispositivos no trucados en condiciones justas. Una rutina destacable que se basa en una serie de principios que podrás utilizar.


Divine Write
(Previously unrevealed) El mago intenta un experimento de clarividencia trabajando con un espectador. Le balance es positivo para ambos


Zenvelopes
Un test de intuición con algunos participantes y un número de cartas con símbolos ESP ocultos en sobres. Los espectadores mezclan las cartas y las distribuyen por pares. Cuando se abren, los símbolos corresponden perfectamente.


Kurotsuke
(Previously unrevealed) Un viejo juego procedente de la corte imperial de Japón se convierte en una deliciosa rutina de mentalismo.


The mind's eye deck
Un paquete de 40 cartas con dibujos. Cada carta es diferente. La baraja se mezcla. Cuando el mago se gira, un espectador retira una carta. Sin girarse, el mentalista comienza a describir el dibujo, e incluso lo dibuja en un trozo de papel.



Dvd 'Max Maven's Videomind phase 2'

Mira primero la performance de Max Maven, y comprenderás por qué Chicago Tribune le califica de "maravilloso esotérico".
A continuación Max y Eugene Burger celebran una entrevista privada en la que se revelan los ecretos jamás revelados.


CONTENIDO :


Shape up (previously unrevealed) : Une carta se retira de una baraja ESP. Una persona invitada distribuye el resto de cartas, girándolas una por una, y deteniéndose en un momento dado. La carta en la que el espectador se detiene tiene el mismo símbolo que la carta elegida al principio.


Changeling : Un truco muy simple con un puñado de monedas. El mentalista adivina cuántas monedas ha elegido el espectador.


Isolation : El participante elige una revista entre varias, la abre por una página cualquiera, y elige una palabra. Gracias a sus poderes telepáticos, el mentalista adivina la palabra en la mente del espectador.


Key to the future : Una simpática variación del clásico "Seven Keys to Baldpate", utilizando un candado y varias llaves. Sólo una llave pude abrir el candado. Esta vez son las facultades mentales del espectador las que están a prueba. ¿Encontrará la llave correcta?


Symbalance (previously unrevealed) :Una baraja ESP. Dos participantes que sacan cartas. El mentalista adivina la carta del primero y del segundo con sólo entrar en contacto con las cartas.


Positive Negative : Una lección en el arte del manejo del público.


The Hawk : Una rutina de cartas imposible basada en la serie "Birds of Prey". Dos espectadores eligen cada uno una carta y la devuelven al paquete mientras que el espectador está de espaldas. Mezclan las cartas. Sin problema, el mentalista las encuentra.



Dvd 'Max Maven's Videomind phase 3'

Mira en primer lugar la performance de Max Maven y descubre por qué la revista People dice de él « un nuevo género de teatro participativo» y por qué Los Angeles Times admira sus « capacidades de improvisación… reforzadas por un carismático magnetismo animal ». Max se reúne a continuación con Eugene Bruger para desvelar los secretos en sus menores detalles.


CONTENIDO :


Goal Mine Inédit
una rutina ideal para abrir tus espectáculos : una rutina de persuasión mental para definir mejor al espectador, para implicar a varios miembros del público y para provocar un clima que traiga risas y aplausos.


Tossed-Out Tech Inédito
Una de las técnicas más importantes del mentalismo que, a la vez, ha sido una de las técnicas menos comprendidas (hasta ahora). Uno de los pilares del repertorio de Max Maven. No se trata simplemente de una descripción, si no de un análisis en profundidad y de conocimientos desarrollados durante más de veinte años a lo largo de muchas y diversas performances. Las informaciones incluidas suponen un verdadero curso « superior » en el campo del mentalismo.


Khan Artist Inédito
El mago predice cómo el público ordenará un conjunto de symboles. Aunque el efecto parece poco compliqué, ha sorprendido muchísimo a grandes figures de la magia.

Contimental
¿Hay una forma más directa de leer el pensamiento de los espectadores? Un espectador piensa en un lugar del mundo y el mago lo desvela. Sin trucajes, sin papeles, podrás hacerlo hasta por teléfono.


Psign
Una predicción rápida y perfecta. El mago muestra una gran pizarra dad la vuelta. Un espectador elige un signo entre 8 que parecen estar escritos en la pizarra. El espectador puede estar sentado dejando al mago solo.


Idioma : Inglés - DVD Multizona.

Volver al catálogo
Este artículo ya no se vende en Magicaplanet