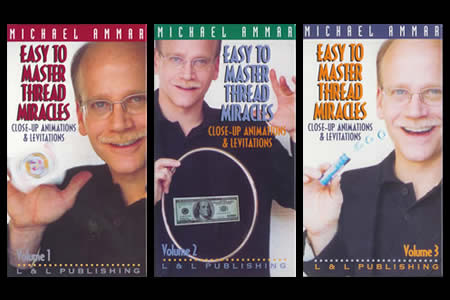 Descripción
Este lote de
3 DVDs
está presentado por el increíble
Michael Ammar
, te enseñará numerosos milagros para magia de cerca y especialmente
sabrás todo sobre El misterio de la levitación
y podrás hacerlo ante los ojos maravillados de tus espectadores...
Presentación des DVDs :
Dvd Easy to Master Thread Miracles - Vol.1
Nuestra aventura comienza con uno de los más modernos y más fascinantes estilos de magia – el increíble hilo invisible elástico creado por
DuPont
fue patentado en 1959. Descubrirás qué es, dónde encontrarlo, y las cosas sorprendentes que podrás realizar con él. Podrás crear animaciones sorprendentes y hacer levitaciones casi en cualquier parte, en cualquier momento.
CONTENIDO :
Sección One – Introducing Elastic Thread
Sección Two – Accessing the Threads
Sección Three – Magic With Invisible Elastic
- Tahoe Tessie and the Magic Postcard
- The Rising Business Card
- Whirling Business Card
- Dan Harlan's Financial Attraction
- Ammar's Portable, Permanent Wallet Hookup


Sección Four – Finn Jon's Elastic Loops
- Phenomenon Fork
- Finn Jon's Bill That Falls Up
- The Floating Bill
- Electrostatic Straw
- Things That Affect Thread Visibility


Sección Five – Visible but Hidden Threads
- Stefan Schuster's Self-Folding Bill with Kicker, featuring Ammar's Self-Contained Wallet Hookup
- Acrobatic Matchbox


Sección Six – The Traditional Reel
- Knot Absolutely Instant
- Knot Automatically Undone
- Clearly Penetrated Mike Stand


Sección Seven – James George Interview
- Comparing Every Available I. T. R.
- Care and Management



Dvd Easy to Master Thread Miracles - Vol.2

Aprenderás en este Dvd ideas de utilización de la Bobina de Hilo Invisible de James GEORGE, y métodos para hacer pasar objetos flotantes a través de un círculo sólido.


CONTENIDO :


Sección 1 – Magic Using the I. T. R.
- Finn Jon's Mystery Nut and Bolt ala I. T. R
- The Chop Cup Application
- Dave Nelson's Dollar Bill Flight
- I. T. R. Floating Bill
- The Perfect Practice Hookup
- Open Face Hookup
- Z Grip to Lock the Thread
- Hoop Pass
- Rotating Hoop Pass
- Bloom's Balancing Card
- Robert Henry's Ashra Coin
- I. T. R. Whirling Card


Sección 2 – The One-Hand Hookup
- Al Baker's Erectile Bill
- Socrate's Personal Chi Power


Sección 3 – The LeClair Hookup
- Floating Bill
- The Whirling Card


Sección 4 – The One Point Hookup
- The Animated Straw
- The Coin in Beer
- Baker's Card from Hat
- Whirling Card
- Baker's Ring on Pencil


Sección 5 – John Kennedy's
- Stealth Retractor
- Ammar's Threading the Needle
- Care and Feeding of the Stealth Retractor
- Rising Business Cards
- Rising Card
- Self-Turning Page


Sección 6 – Bonus Guest Star James George
- The Floating Pencil
- Tips & Theory
- Why Threads Break and How To Avoid
- Practicing with Threads
- Controlling Your Space
- The Hierarchy of Astonishment


Dvd Easy to Master Thread Miracles - Vol.3

Hay más posibilidades con un hilo invisible que con cualquier otro accesorio de magia. Este Dvd te enseñará a guardar, transportar y utilizar los hilos invisibles que usas para tus efectos.


CONTENIDO :


Performance
- Floating Bill
- The Super String Theory


Sección One - Thread Strength According to Similar Diameters
Sección Two - Securing the Ends, Separating Individual Strands
Sección Three – Storing and Transporting
- Simple Playing Card
- Finn Jon System
- John Kennedy's Z-Webs & Mini-Z-Webs
- The Pin & Straw System
- Sticky Mat Solution
- John Haar's Deck Gimmick
- Clear Plastic Sticks
- Lifesaver Holders
- Wine Bottle Hookups—Corks, Ribbons, Clear Tubes
- Under-Bar Bobbins
- Mike-Stand Holders


Sección Four – The Horizontal Two-Point Hookup Explanation
- The Floating Bill
- The Super String Theory


Sección Five –The Steve Fearson Hookup
- The Floating Lifesaver
- James George's Floating Spinning Ball



Idioma : Inglés - Dvd multizona.



Volver al catálogo
Este artículo ya no se vende en Magicaplanet