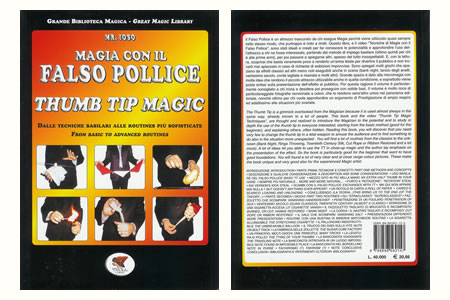 Descripción
Un libro pensado para iniciar al mago en el uso del Falso Pulgar, empezando por el método básico, explicando otros usos y algunos secretos. Leyendo este libro descubrirás que no necesitas mucho para transformar tu FP en un arma total para entretener a tu público y saber qué hacer en las situaciones más inesperadas...
CONTENIDO :
Introducción
Parte uno : Métodos y conceptos
- Una descripción y varias consideraciones
- Uso básico del FP
- Un FP extra en tus manos
- Cada vez más natural
- Rotation Steal
- The Dai Vernon's Kick Steal
- Cambios
- ¿Y si no aparece nada?
- Un rollo de papel
- Cargar y descargar
- Esto nos acerca al final (de la teoría)


Parte dos: Rutinas
- Super clásicos
- Vanishing handkerchief
- Penetration of silk
- Twentieth century silk
- Lit cigarette vanish
- Burned, or cut, hankie restored
- Bank night
- Cut rope or ribbon restored
- Vanishing salt


Más Presentaciones
- Matchbook rutina
- The stretching cigarette
- The unbreakable balloon
- Nuts on bolt trick
- The sugar cubo factory
- One principle, many tricks
- The tying of your thumbs
- The traveling note
- Note found in imposible place
- Note in purse
- Fakirism


Conclusión
Bibliografía


Idioma : Inglés, Italiano - Formato : 15 x 20,9 cm - 176 páginas – Ilustrado.



Volver al catálogo
Este artículo ya no se vende en Magicaplanet