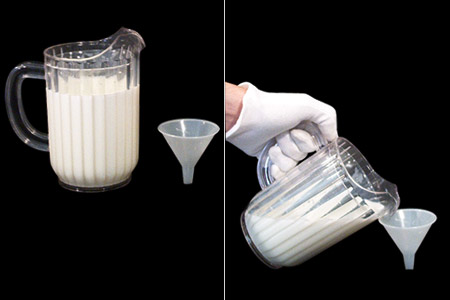 Description
Vous présentez à votre public un récipient plein à ras bord de lait.
Vous roulez devant votre public (ou préalablement) une feuille de papier ou de journal en cône.
Vous versez alors du lait dans le cône et il ne vous reste plus qu'à réaliser une passe magique.
Et voici que le lait a disparu, le récipient est quasiment vide et la feuille peut être réduite en boule sans qu'une seule goutte de lait ne coule.
Belle fabrication
Facile à faire
Hauteur du pichet : 17,5 cm
Diamètre : 10 cm environ

Return to the catalogue


We advise you with this product :
1.
Mini Milk Pitcher
12 €