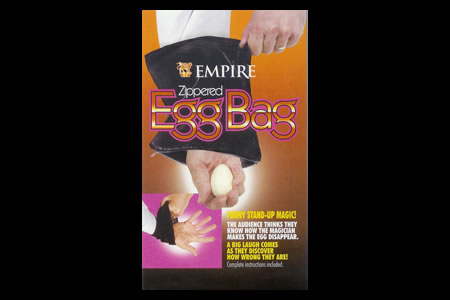 Description
Vous montrez un sac des 2 cotés en le retournant comme une chaussette pour prouver qu'il est vide.
Vous pouvez aussi ouvrir une fermeture éclair qui se trouve au fond et passer la main au-travers!
Vous le remettez à l'endroit et placez un œuf à l'intérieur.
Exécutez une passe magique...Vous retournez le sac comme la première fois ...
l'œuf a disparu
!
Encore un fois, vous pouvez passer la main par la fermeture éclair pour prouver que le sac est vide!
Le public peut voir au-travers
!
Vous remettez le sac à l'endroit, exécutez une passe magique,
l'œuf est revenu.
Un effet classique qui fonctionne bien auprès de tous les publics.


L'utilisation de la fermeture éclair accentue grandement les apparitions et disparitions de l'œuf !



Return to the catalogue


We advise you with this product :
1.
Silk to egg (Vernet)
13.5 €

3.
Oeuf rebondissant
4.5 €