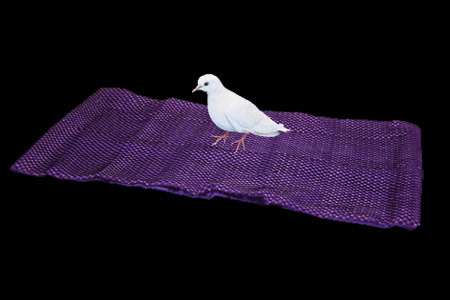 Description
Voici une grande illusion surprenante que vous pourrez à loisir présenter sur scène ou en close-up.
L'effet :
Le magicien présente un grand pan de tissu qu'il tient à bout de bras.
Il remonte alors le bas du tissu puis place une colombe à l'intérieur.
Il tient les deux extrémités du tissu replié à bout de bras puis lâche une des deux extrémités,
la colombe a disparu !
Elle a été remplacée par un foulard blanc qui retombe lentement vers le sol.
Vous pourrez également faire apparaître la colombe
.
Tissu doublé de velours de grande qualité avec deux baguettes à chaque extrémité pour une meilleure manipulation.
Deux effets superbes grâce à ce système.
Un échange net, visuel et facile à faire!
Livré complet sans le foulard ni la colombe.
Dimensions :
84 cm de long par 47 cm de large environ.

Return to the catalogue


We advise you with this product :
1.
L'écharpe à colombe
21.5 €