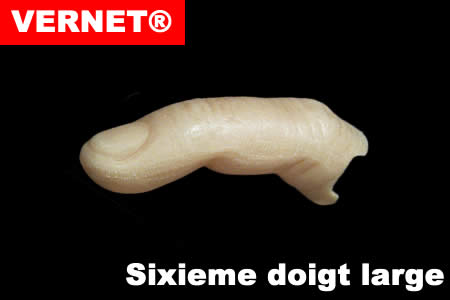 Description
L'avantage d'un sixième doigt?
Simple: sa capacité de chargement est beaucoup plus importante puisque
vous disposez du volume de trois phalanges entières.
Oui, là vous utiliserez tout l'espace disponible étant donné que vous ne serez pas obligé de chausser l'accessoire.
Contrairement aux autres faux doigts,
ce sixième doigt ne se chausse pas
sur une phalange mais se coince en principe entre index et médius ou médius et annulaire, doigts avec lesquels il se confondra.
Cinq doigts? Six doigts? Qui va vérifier?
Le public voit une main pleine de doigts. Mais de là à les compter... N'ayez crainte, personne ne s'apercevra de la présence de ce doigt supplémentaire surtout si votre main est toujours un peu en mouvement.
La couleur et l'aspect de ce gimmick sont identiques aux autres faux-doigts Vernet.
Comment se défaire de ce sixième doigt après la production?
Tout simplement en l'enfilant sur votre petit doigt. Ce faisant, vous réduirez davantage les risques de détection.
Longueur :
environ 7,5 cm.
Diamètre à la base : 2,5 cm.

Return to the catalogue


You can find this magic item in :
1.
5 False Finger Set (Vernet)
15 €