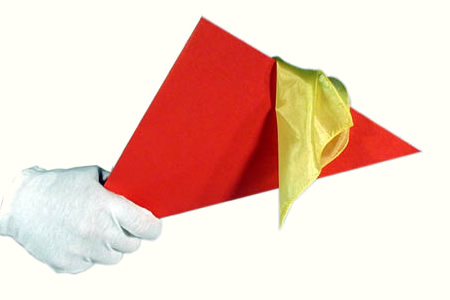 Description
De nombreux effets magiques nécessitent de faire disparaître un foulard. Quand vous lisez la notice, vous avez toujours la même phrase qui revient :
'' Faites disparaître le foulard grâce à votre méthode préférée... ''
Et vous vous retrouvez à utiliser systématiquement votre F.P.
Voilà pourquoi nous vous présentons le Bang Gone, accessoire efficace pour faire disparaître n'importe quel foulard. Grâce à lui,
vous pourrez faire apparaître et disparaître un foulard
à n'importe quel moment de votre prestation.
Voici un exemple d'utilisation :
Vous montrez les deux cotés d'un carré de carton à votre public et vous le pliez en forme de cône.
Prenez maintenant un foulard et mettez-le dans ce cône.
Une petite passe magique...
Le foulard à totalement disparu
. Vous dépliez le carton et le montrez des deux cotés pour prouver qu'il s'est bien volatilisé !

Return to the catalogue


We advise you with this product :
1.
Ace of Spades Silk 24''
16 €

2.
Silk handkerchief (18
6 €