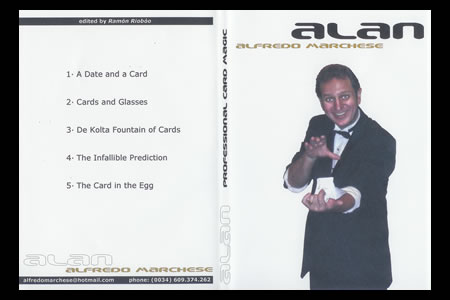 Description
Voici les notes de conférence d'
Alan Alfredo MARCHESE
en format DVD.
Une sélection de classiques actualisés avec une touche très personnelle.
AU SOMMAIRE :
A Date and a Card
Le magicien demande à un spectateur de penser à n'importe quelle date de l'année et lui remet un agenda pour qu'il cherche la date en question, puis lui demande de nommer à voix haute la carte qui y est inscrite. Le spectateur prend un jeu de cartes d'une personne qui en avait la garde, les compte une par une, à voix haute et cherche la carte qui corresponde à la date choisie. Il comptera 51 cartes et bien entendu ne verra pas la carte choisie. Pour finir, le magicien mentionne une enveloppe qui a été tout le temps à la vue de tous et en sort une carte, celle qui manque dans le jeu.


Cards and glasses
Un jeu de cartes qui peut être emprunté est donné à un spectateur pour qu'il le mélange et le divise en trois paquets. Puis, il en donne deux à d'autres spectateurs pour qu'ils mélangent ces derniers. Un spectateur nomme une couleur et trois autres disent trois valeurs du jeu. Le magicien prend les trois paquets de cartes et les laisse sur la table sans en inverser l'ordre. On fait remarquer qu'il y a trois coupes posées sur la table et on y met les paquets, tarot vers le public. On demande aux spectateurs de nommer de nouveau les cartes choisies et on retourne les coupes pour montrer que ce sont bien les mêmes.


De Kolta Foutain of Cards
Une carte est choisie puis perdue dans le jeu. Le jeu est placé dans une coupe transparente. Aux ordres du magicien, les cartes commencent à voler dans les airs jusqu'à ce qu'il n'en reste plus qu'une dans la coupe. La carte qui reste dans la coupe est bien entendue la carte choisie.


The Infallible Prediction
Le magicien montre une petite enveloppe contenant une prédiction. Pour empêcher les spectateurs de penser qu'il puisse la manipuler, il la place dans une grande enveloppe. Il parie aussi de l'argent, un billet de banque. Ensuite le spectateur choisit une carte (d'un jeu invisible). Lorsque l'enveloppe est ouverte, la prédiction est correcte !


The Card in the Egg
Le magicien demande à un spectateur de « penser » à une carte et de la nommer. Puis, il demande à un autre spectateur de choisir un œuf et de le placer dans un coquetier. Pour finir il demande à une troisième personne de casser l'œuf. Elle cherche quelque chose dedans et sort ce qui paraît être une carte enroulée, elle la déroule et montre que c'est bien la carte pensée.


Langue : anglais



Return to the catalogue
This item is no longer
sold on Magicaplanet