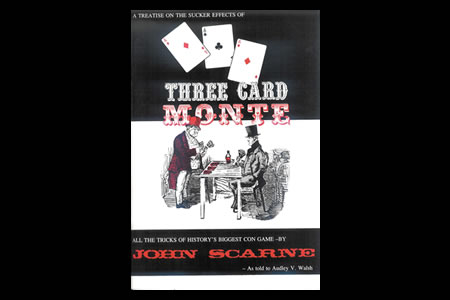 Description
Just another reprint of a « Gambling Classic », this booklet presents in great detail the biggest money-maker among the short con games – more than the shell game and match game combined. Dealt single-handed without the aid of shills, it gets the money. When a complete mob works, they bust anyone who likes to bet on a cinch!
With only a couple hours of praticing anyone can become good enough to amaze the members of the Women's Club. Not the Poker Club, especially if he is beating the game, for skill with cards can cause trouble. The pigeons will fly!
CONTENTS :
Definition of Gambling Terms

Foreword

Introduction

Grifter's Signals

Familiar Phases in Gambling

Three Card Monte

Series of Deceptive Moves

Bend of Crimped Croner, Grifter Method

The Flip

The Flip Change

Grifter's Marked Corner

Scarne's Monte Slide

Scarne's Triple Climax

Scarne's Method of Crimped Corner

Scarne's Marked Corner

The Stamped Ace

Scarne's Method of Torn Corner

Scarne's Push Over Change

Mexican Turn Over

The Daub


Language : english - Format : 13,5 x 20,5 cm - 48 pages.




Return to the catalogue
This item is no longer
sold on Magicaplanet