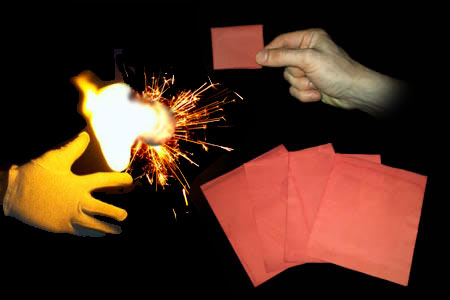 Description
Cette feuille va s'enflammer en un éclair sans laisser de trace ni d'odeur.
Elle va vous permettre de faire diversion et de rendre vos apparitions ou vos changes plus spectaculaire avec la boule de feu qu'elle va produire.
Il suffit de froisser un petit morceau de papier flash et l'enflammer en le jetant en l'air.
Sa couleur rouge vous permet de l'utiliser avec un foulard, un objet de couleur identique…
Vous pouvez par exemple mettre le feu à un bout de papier flash puis faire réapparaître un foulard de couleur rouge…
Ce matériel, qui procure des effets très visuels, est néanmoins à manipuler avec précaution. Tous les articles « flash » sont fabriqués dans une matière spéciale qui se consume instantanément.
4 Feuilles de 21 x 25 cm
Vente Interdite aux mineurs.

Return to the catalogue


We advise you with this product :
1.
Burn
110 €

2.
Topi Flasher
10 €