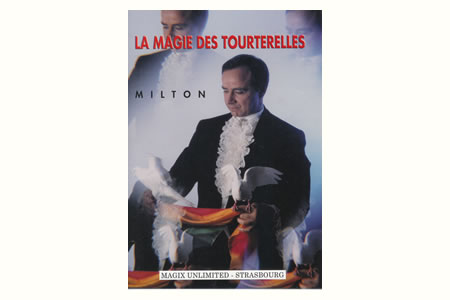 Description
Ce livre s'adresse à tous les prestidigitateurs (amateurs ou professionnels) qui veulent approfondir leurs connaissances sur la prestidigitation des tourterelles.
En effet, il pourront trouver dans cet ouvrage toutes les indications utiles pour une meilleure réalisation de leur numéro.
L'ouvrage ne s'adresse donc pas aux prestidigitateurs déjà très spécialisés dans cette branche de la magie, car leurs connaissances dépassent certainement les limites que l'auteur s'est imposées.
Sa seule prétention est d'accompagner des nouveaux prosélytes pour les aider à faire leurs premiers pas.
Le plan de l'ouvrage est très simple et fonctionnel :
Une partie traite de l'entretien des colombes en général et se donne pour but de mettre entre les mains des débutants les premières armes du métier. Une autre concerne les maladies qui peuvent affecter les tourterelles ou colombes, et vous aidera à faire face aux cas les plus simples.


Vient ensuite la description des différents types d'accessoires, du costume, et de quelques tours pratiques.

Dans la présentation de ce petit volume, l'auteur a chercher à dire simplement les choses essentielles, et, compte tenu du fait qu'il est surtout destiné aux néophytes, il a ajouté quelques dessins pour leur faciliter l'apprentissage.


AU SOMMAIRE :

Les Colombes : Types de tourterelles – L'alimentation et l'hygiène des tourterelles. L'Habit, corsets et harnais : La queue de pie – Les harnais de Milton (harnais visibles, invisibles et automatiques).

Techniques et Tours : Comment hypnotiser une colombe – Apparition d'une cage à la manche – Prise au guéridon – Apparition d'une perruche – Production d'une colombe de deux foulards – Apparition instantanée d'une colombe – Apparition d'une colombe dans un haut-de-forme.

Format : 16,5 x 23,5 cm - Illustré - 36 pages.



Return to the catalogue




We advise you with this product :
1.
One hand dove bag
24 €

2.
Dove from a newspaper
26 €

3.
Livre à la colombe
58 €