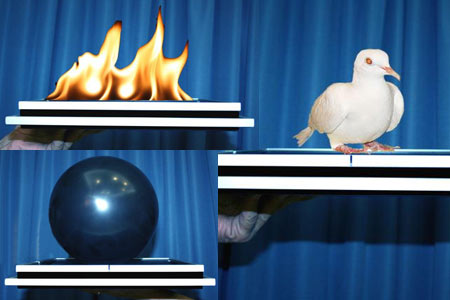 Description
Cet accessoire ingénieux est conçu pour 2 présentations très différentes: vous pourrez soit faire apparaitre une colombe d'un ballon, soit faire apparaitre des grandes flammes qui se transforment ensuite en colombe...
En effet, vous montrez le plateau à votre public puis automatiquement il s'enflamme, tout d'un coup la flamme s'éteint laissant la place à une magnifique colombe.
La deuxième utilisation consiste à gonfler un ballon classique de baudruche, et le placer sur le plateau. Tout à coup, lorsqu'il éclate, une superbe colombe apparait de façon inexplicable.
L'utilisation de cet accessoire de qualité professionnel est d'une grande simplicité, vous aurez le loisir de vous concentrer essentiellement sur sa présentation.
Facile à réaliser
Très visuel
Vous devrez prendre toutes vos précautions à l'égard du feu
Vente interdite aux mineurs
Matériel professionnel
Dimensions : 35 x 32 x 7 cm
Fabrication Toramagic

Return to the catalogue


We advise you with this product :
1.
Ballons Qualatex Ronds (taille 9)
15.5 €