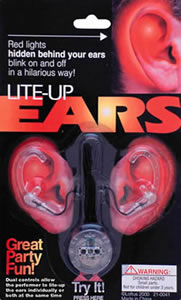 Description
A fantastic effect ! Red lights blink on and off from your ears.

There is a single device for the two ears.

You can blink just one ear before the other. It will looks like the light travels from a ear to the other.

Perfect to chain with D'lite.

Provided complete, battery delivered.

Return to the catalogue


You can find this magic item in :
1.
Beach kit
100 €

We advise you with this product :
1.
The Ultimate D'Lite DVD
24 €

2.
FireFlies (one pce)
15 €

3.
FireFlies (5 pcs)
45 €