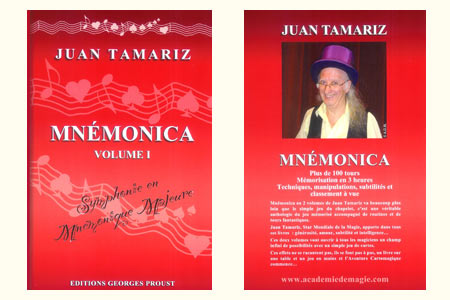 Description
Le fameux livre Mnémonica en deux tomes de Juan Tamariz enfin en français !
Plus de 100 tours, mémorisation en 3 heures, techniques, manipulations, subtilités et classement à vue.
Mnémonica en 2 volumes de Juan Tamariz va beaucoup plus loin que le simple jeu du chapelet, c'est une véritable anthologie du jeu mémorisé accompagné de routines et de tours fantastiques.
Juan Tamariz, Star Mondiale de la Magie, apporte dans tous ses livres : générosité, amour, subtilité et intelligence…
Ces deux volumes vont ouvrir à tous les magiciens un champ infini de possibilités avec un simple jeu de cartes. Ces effets ne se racontent pas, ils se font pas à pas, un livre sur une table et un jeu en mains et l'Aventure Cartomagique commence…
Détail sur le livre :
Mnémonica Volume 1 : 235 pages, 154 photos, format : 160 x 240 mm.

Return to the catalogue




You can find this magic item in :
1.
Mnémonica (Vol.1 et Vol.2)
100 €