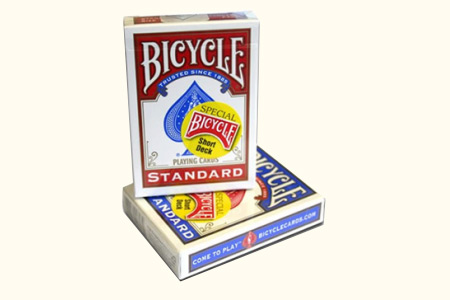 Description
Ce jeu de cartes semble si ordinaire… et pourtant…
Prenez une carte traditionnelle d'un jeu Bicycle et comparez-la avec une carte courte de ce jeu… Vous serez surpris de constater que cette dernière carte est légèrement plus courte qu'une carte poker ordinaire tout en ayant des angles parfaitement découpés.
Cependant cette différence est si peu notable que n'importe lequel de vos spectateurs n'y verra que du feu.
Vous vous rendrez vite compte des utilisations multiples de ces cartes. À la fois pratiques et astucieuses, vous ne pourrez plus vous en passer.
Vous pourrez ainsi facilement la retrouver après de nombreux mélanges et de nombreuses coupes. Ou vous en servir comme carte clé
Les utilisations sont multiples, laissez aller votre imagination.
Je vous conseille un livre qui ne traite que sur ce sujet : Paramiracles de Ted Lesley
Fabriqué par USPCC
Jeu Bicycle standard racourci de 2 mm environ
Disponible en dos rouge ou bleu

Return to the catalogue


This item is also available separately
1.
Bicycle short Card
1.5 €

We advise you with this product :
1.
Paramiracles
60 €