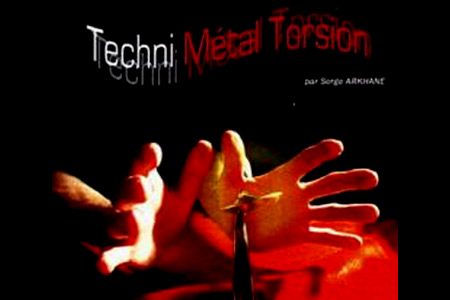 Description
Le monde étrange et mystérieux des torsions de métal, enfin à portée de main. Magie ou Paranormal ?
Vous souhaitez découvrir et maitriser l'art de la torsion de métal ?
Serge Arkhan, spécialiste de cette discipline, fera de vous un maitre en la matière.
Vous allez parvenir à tordre sous le nez même des spectateurs des cuillères, fourchettes, pièces et clés.
Il vous accompagnera pas à pas dans cette discipline du choix des cuillères, aux torsions de fourchettes les plus folles !
Accompagné de nombreux extraits live, vous apprécierez la présentation et l'impact de chaque effet sur les spectateurs.
Une fois les techniques maitrisées, Serge vous livrera ses meilleures routines, spécialement étudiées pour le travail de table en table.



Au Sommaire :
- Torsion à une main
- Torsion à deux mains
- Torsion Eric Castel
- Les révélations
- 1ére méthode
- 2éme méthode
- 3éme méthode
- Autre version
- Torsion d'une fourchette
- 1ére technique
- 2éme technique
- 3éme technique
- Vrille d'une cuillère
- Les couverts
- La cuillère cassée
- Torsion d'une pièce
- Change de Tamaris
- Change d'une pièce
- Tordre une pièce
- Torsion d'une clef
- Tordeur à tirage
- Perfect key bending
- La psy key
- La routine
Serge Arkhan vous présente sur ce DVD sa routine de torsion de métal. Celle-ci propose pas moins de 9 effets successifs, tous plus étonnants les uns que les autres et s'enchaînant à un rythme effréné pour laisser le spectateur pantois et admiratif !
Avant de vous expliquer sa routine, l'auteur vous exposera la dizaine de techniques nécessaires à ce genre d'effets et qui sont une synthèse parfaite de tout ce qui existe en matière de torsion de cuillères, fourchettes, dents de fourchette, clefs, pièces… Toutes les techniques des grands maîtres de cette discipline de la magie y sont évoquées dans les moindres détails et représentées sous différents angles pour que vous ne perdiez rien de ces manipulations inventives !
Et pour parfaire le tout, l'artiste vous indiquera aussi comment choisir et acheter votre matériel, comme amener la révélation - même en sachant comment il s'y prend, vos sens auront du mal à y croire ! - ou travailler votre routine pour qu'elle produise un impact maximal.
Quand vous aurez appris toutes les bases des torsions à une ou deux mains en passant par la torsion Eric Castel ou le change de Tamaris, Serge Arkhan vous apprendra à les assembler pour créer, comme lui, une succession d'expériences para-normales qui ne pourront qu'impressionner les spectateurs !
Le DVD idéal pour apprendre simplement et facilement les bases de la torsion de métal et s'initier à cette branche de la magie qui ne laisse aucun spectateur indifférent !
Tout est passé en revue : clefs, pièces, fourchettes, dents de fourchettes, cuillères… Aucun objet courant en métal ne résistera à vos torsions magiques !
Serge Arkhan vous présente sa routine où la magie des neuf effets se passe le plus souvent entre les mains même du spectateur. Mais vous pouvez aussi utiliser les techniques et tours qu'il vous explique pour créer votre propre enchaînement. C'est une véritable bible de la torsion des métaux qu'il met ici entre vos mains !
DVD en Français
De la pure magie
Durée 75 minutes

Return to the catalogue




We advise you with this product :
1.
Liquid Forks
30 €

2.
Magic Smoke From Anywhere (V.2)
165 €

3.
Key Bender
12 €