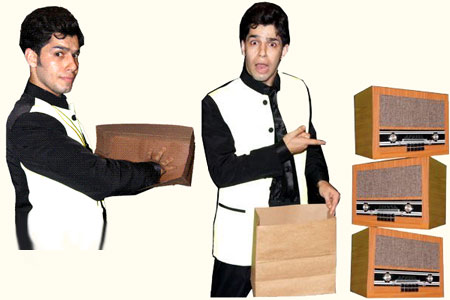 Description
Le magicien montre un sac en papier parfaitement vide. Il peut d'ailleurs s'en servir à la base pour transporter d'autres objets de son numéro.
Une fois que les spectateurs ont put constater qu'il n'y avait absolument rien à l'intérieur, le magicien sort de celui-ci une belle et solide radio en bois, puis il en sort une deuxième identique et finit par en sortir une troisième. Ces radios d'un style ancien sont magnifiques.
Une triple apparition très impressionnante !
Extrêmement visuel
Facile à réaliser
Tout le matériel est fourni
Fabrication Tora
Créé par Hamed, le fil de Monsieur Tora
Dimensions d'une radio
: 32 x 25 x 24 cm

Return to the catalogue


We advise you with this product :
1.
Vanishing radio
1250 €