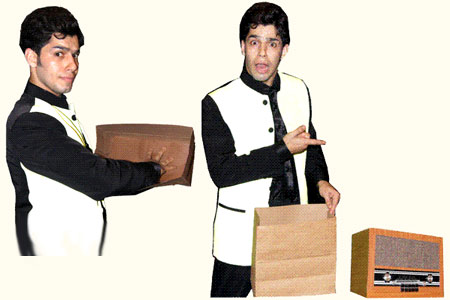 Description
Le magicien montre un sac en papier parfaitement vide. Il peut d'ailleurs s'en servir à la base pour transporter d'autres objets de son numéro.
Une fois que les spectateurs ont put constater qu'il n'y avait absolument rien à l'intérieur, le magicien sort de celui-ci une belle et solide radio en bois. Cette radio d'un style ancien est magnifique.
Une apparition très impressionnante !
Extrêmement visuel
Facile à réaliser
Tout le matériel est fourni
Fabrication Tora
Créé par Hamed, le fil de Monsieur Tora
Dimensions de la radio
: 32 x 25 x 24 cm

Return to the catalogue


We advise you with this product :
1.
Vanishing radio
1250 €