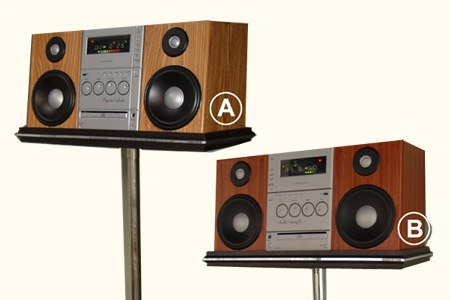 Description
Grand classique dans le monde de la magie, la disparition d'un poste de radio!
Oui mais ce poste à radio à disparition ne ressemble pas aux vieux postes des années 40/50 que l'on trouvait sur le marché magique mais à une stéréo actuelle.
IL ressemble parfaitement à une chaine stéréo que vous pourriez avoir chez vous...
C'est une chaîne stéréo parfaitement imitée, posée sur son guéridon.
Vous mettez la chaine sous tension, introduisez un vrai CD et lancez la musique.
Vos spectateurs apercevront l'aiguille du volume s'agiter en rythme avec la musique, preuve du bon fonctionnement de la chaine !
Couvrez-le d'un foulard, prenez-le entre vos mains et jetez le foulard en l'air...La chaine a totalement disparue!!!
Disparition nette, flash et très visuelle!!!
Matériel professionnel de luxe
Le guéridon roule, roues de qualité
Très fiable
Qualité exceptionnelle
Créé et fabriqué par Wladimir
Très visuel
Très facile à réaliser
Dimensions : 50 x 30 x 25 cm
Version électronique : Un capteur électronique s'agite au rythme de la musique
Le pied et le guéridon à roulettes sont compris
Livré complet avec une très belle valise de rangement en aluminium pour la protection et de transport très solide et très résistante
Livraison en 2 ou 3 jours avec frais de port offerts
DVD d'instructions sans paroles
Modèle A ou B à préciser lors de votre commande

Return to the catalogue


We advise you with this product :
1.
Hamed's CD player (with suitcase)
1150 €