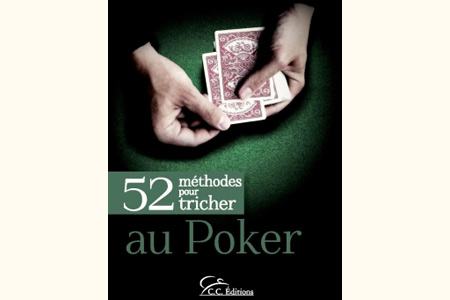 Description
Comment font les tricheurs pour gagner au poker ?
Apprenez leurs méthodes et comment vous protéger contre elles !
Quels sont les tricheries, les systèmes de marquage et les autres techniques vicieuses qui font partie de l'arsenal des tricheurs ?
Dans ce livre fascinant sur l'art des tricheries aux cartes, l'expert en manipulations Allan Zola Kronzek expose cinquante-deux des systèmes de tricherie les plus diaboliques jamais inventés.
Vous apprendrez :
- Comment les tricheurs peuvent remporter les tournois de Texas Hold'em ;
- Pourquoi une coupe du jeu ne garantit pas une distribution honnête des cartes ;
- Comment les tricheurs travaillant en équipe peuvent écraser tout opposant ;
- Comment détecter les tricheurs dans leurs oeuvres (lorsque cela est possible !)
Si vous vous êtes déjà demandé jusqu'où les tricheurs peuvent aller et comment ils s'en sortent, le livre 52 Méthodes pour tricher au poker contient toutes les réponses qui peuvent vous éclairer.
Livre en français
332 pages
Couverture en solide
Dimensions : 19,2 x 12,8 cm

Return to the catalogue




We advise you with this product :
1.
BICYCLE Vintage Cupid Back
7.5 €