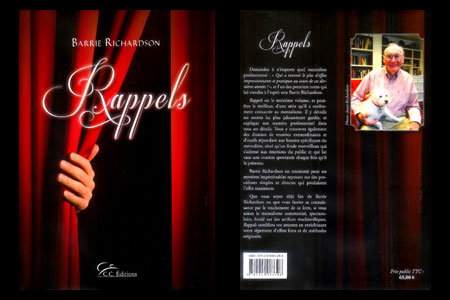 Description
Professeur et Doyen d'université,
Barrie Richardson est également l'un des mentalistes les plus réputés au monde
. Il est renommé pour ses mystères impénétrables reposant sur des procédures simples et directes qui produisent l'effet maximum.
Ce livre, le troisième de sa trilogie (après Theatre of the Mind et Act Two, parus en français aux éditions Magix sous les titres respectifs de Mental Magic et Mental Miracles) est sûrement le plus abouti. Il y révèle ses meilleurs effets gardés jalousement secret, dont un numéro professionnel complet !
Rappels offre une sélection des meilleures créations issues du cerveau de Barrie Richardson au cours de ces dernières années, ainsi que des améliorations d'effets figurant dans son répertoire depuis plus de dix ans.
Parmi ces tours les mieux gardés jusqu'ici, vous trouverez l'explication des effets suivants :
Une ancienne clef tourne sur elle-même et bouge dans la main du mentaliste.
Est-elle hantée, ou l'opérateur possède-t-il le don de psychokinèse ? La méthode expliquée ici utilise une clef normale qui peut être examinée avant et après l'effet qui, non seulement ne laisse rien à désirer comparé à celui obtenu grâce aux clefs truquées et dispendieuses habituellement utilisées pour ce tour, mais leur est même supérieur.
Un crayon ordinaire, reposant dans la main ouverte à plat du mentaliste, se dresse dans celle-ci ; lorsqu'il demande à un spectateur de le prendre, sous l'effet de sa suggestion celui-ci n'a pas assez de force pour le faire !
Après que la suggestion mentale a cessé, le spectateur peut prendre le crayon sans effort et l'examiner à loisir.
Le mentaliste écrit un mot cible sur un morceau de papier. Un spectateur est invité à se promener dans une librairie, à choisir n'importe quel livre sur un rayon, à l'ouvrir et à y choisir un mot au hasard. Lorsqu'il révèle le mot choisi, il s'avère que c'est celui que le mentaliste avait écrit !
Ce même spectateur est alors invité à se concentrer sur le numéro de la page sur laquelle se trouve son mot, et un membre de l'assistance le devine !
D'incroyables outils répondant aux besoins spécifiques du mentaliste sont également décrits ici
, certains pour la première fois :
- des méthodes pour prendre secrètement connaissance de ce qu'un spectateur a écrit sur un petit papier ;
- des procédés pour échanger secrètement un petit papier contre un autre ;
- une enveloppe truquée permettant de prendre connaissance de ce qui est écrit sur un petit papier que le spectateur y a mis, ou de l'en retirer secrètement, mais qui peut être confiée à un spectateur sans qu'il en découvre le secret ;
- une méthode pour substituer secrètement un jeu contre un autre, pendant que le mentaliste est debout et en pleine vue des spectateurs.
Tous ces stratagèmes ont passé avec succès l'épreuve des experts et du public.
Barrie Richardson est connu pour avoir mis au point quelques-unes des méthodes les plus subtiles pour le célèbre tour de la carte au nombre (ACAAN).
Dans Rappels, il révèle ce qu'il considère comme étant la meilleure de toutes, présentée avec un jeu ordinaire mélangé par les spectateurs.
Si vous présentez les routines expliquées dans ce livre, vous ne serez jamais à court de rappels !

Return to the catalogue