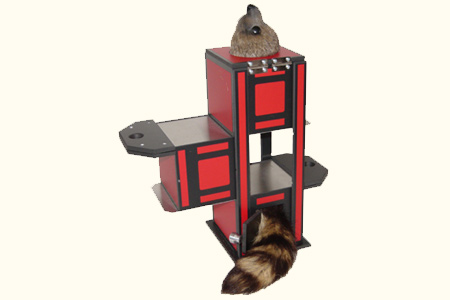 Description
Voici une grande illusion pour votre raccoon !!!
Prenez le et mettez dans la boîte. Vous le poussez jusqu'au fond et ouvrez même une petite portière pour en sortir sa queue. Vous fermez le couvercle et le museau de Rocky sort sur le dessus
Exhibez alors deux plaques en métal, tapez-les l'une contre l'autre pour en éprouver la solidité puis poussez-en une au travers de la fente qui se trouve à la hauteur du tiers supérieur de la boîte. La même opération est répétée au niveau du tiers inférieur ; là aussi la plaque métallique coupe le corps de Rocky.
Comme dans la zig zag classique, vous poussez vers la gauche la partie centrale de la boite...
Bien sûr, à la fin, vous remettez la boite en position initiale et retirez les deux plaques. Lorsque vous sortez le racoon, il est intact ! Vous pouvez donc poursuivre votre numéro de raccoon !
Facile à faire
Boîte en PVC rouge et superbement décorée
Très bel effet de salon et de scène
Dimensions hors tout 13 x 13 x 31 cm.
Les lames métalliques mesurent, sans leur poignée : 22 x 10 cm
Qualité professionnelle
Livrée sans raccoon

Return to the catalogue


We advise you with this product :
1.
Robbie the Racoon
40 €