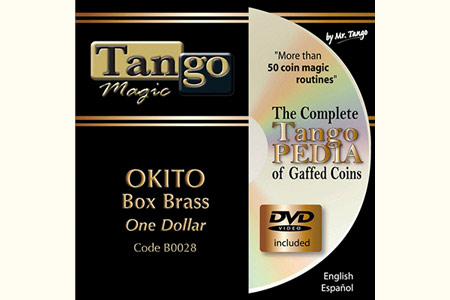 Description
Une superbe boîte
Okito en laiton
permettant de faire voyager des pièces de 1$.
Vous pourrez mettre 4 pièces dans cette boîte. En plaçant la boîte sur votre main, les pièces vont traverser à la fois
votre main et la boîte Okito
pour se retrouver mystérieusement à l'intérieur de votre poing.
Cet effet est l'effet de base réalisable avec une boite Okito, mais
il existe de nombreuses routines
réalisables avec ce fabuleux outil. Ces routines sont décrites dans de nombreux livres ou DVD pédagogiques de magie.
Nombreuses autres routines possibles
Matériau : Laiton
Boite pour 4 pièces de 1 Dollar
Notice en Français
Fabrication Tango
Qualité professionnelle

Return to the catalogue


We advise you with this product :
1.
Jumbo 1$
5 €