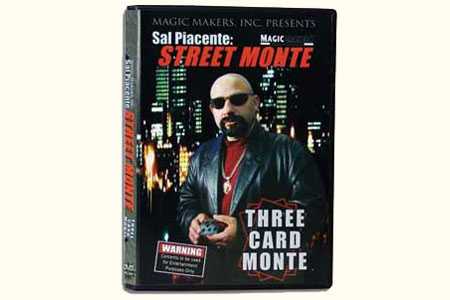 Description
This is one of the oldest cons in American history. Sal Paciente (The HITMAN of Magic) stars in this in-your-face DVD on THREE CARD MONTE. You'll learn the game, the moves, and the psychology behind one of Magic's favorite close-up routines and one of the most dangerous games on the street.

A must!!!
Learn the best technique of Three Cards Monte.Knowledge is power !!AU SUMMARY :
Staring the Mix

The Secret to Monte

Hype Move Detail

The Advanced Throw

Hype Move Overview

The Double Hype

One-Handed Monte

The Mexican Turnover

Bent Corner Scam
BONUS :
The Alabama Huste

Paper Clip Monte

Three Disk Monte
English DVD.

Return to the catalogue




You can find this magic item in :
1.
Street Monte Ultimate Kit
49.5 €

We advise you with this product :
1.
Auto deck final vision
15 €

2.
Brainwave Deck
12 €