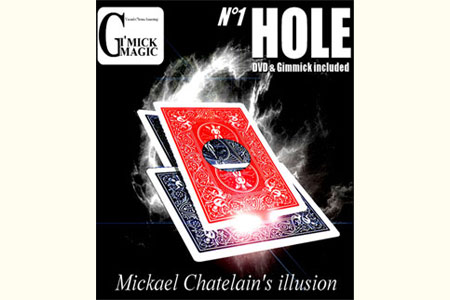 Description
Mickaël étant devenu l'un des créateurs d'effets magiques français des plus reconnus dans le monde entier, il vous proposera désormais une nouvelle collection de tours personnels, de curiosités et d'illusions...
Le premier effet ou plutôt la première illusion se nomme HOLE !!!
Voyons l'effet en détails :
Un spectateur examine une carte rouge qui possède un trou d'environ 3 cm de diamètre en son centre. A part ce trou, cette carte est ordinaire...
Sortez de votre poche quelques gommettes autocollantes, et invitez votre spectateur à en choisir une et à la signer.
Prenez la première carte de votre jeu et superposez y la carte rouge avec le trou au centre. Attachez les deux cartes ensemble à l'aide de la gommette signée... Pour ce faire collez la gommette sur le bord inférieur de la carte rouge et recourbez là de façon à coller les deux cartes ensemble... un peu à la manière d'un FLAP !
Invitez votre spectateur à vérifier que votre "construction" est bien solide en tirant dessus...
Maintenant, vous expliquez à votre spectateur que rien ne peut traverser vos cartes de part en part sans endommager la gommette ! La preuve, vous invitez votre spectateur à prendre une carte dans le jeu, à la signer et à la glisser entre vos deux cartes !
Sa carte est toujours visible par le trou au centre de la carte rouge... mais comme prévu, la gommette empêche tout passage, et le spectateur s'en rendra vite compte...
Proposez alors de réaliser une expérience totalement impossible, à savoir le passage de sa carte au travers la gommette sans l'abîmer ! Le passage de la matière solide au travers de la matière solide !?
Placez lentement la carte du spectateur entre vos deux cartes, montrez l'ensemble recto-verso, aucun doute n'est possible et pourtant... Lentement, la carte du spectateur traverse la gommette, signée...
Le spectateur lui même pourra retirer sa carte sans pour autant avoir d'explication ! La carte du spectateur traverse comme si de rien n'était... Et pourtant aussitôt vous montrez que votre "construction" est parfaitement solide comme au début !
Une expérience vraiment curieuse d'autant plus que votre spectateur pourra examiner les cartes et la gommette !
Un mystère impénétrable !
Hole est vraiment MAGIQUE et le principe est vraiment curieux
Facile à réaliser
Le spectateur peut tenir l'ensemble des cartes sans rien détecter
L'illusion est plus que convaincante et le spectateur lui même sentira sa carte traverser lentement la gommette
Le gimmick est livré avec un DVD explicatif qui vous dévoilera le secret de cette incroyable expérience
Vous y découvrirez également une version à fabriquer chez vous en moins de 5 minutes
Une création signée Mickaël Chatelain
DVD en Français

Return to the catalogue


We advise you with this product :
1.
BICYCLE Deck
3 €