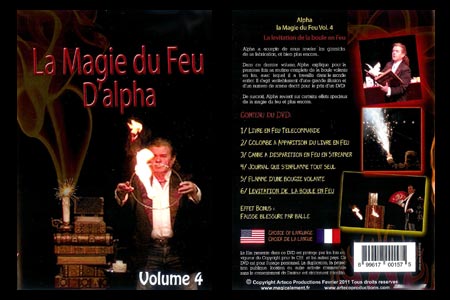 Description
Dans ce dernier opus, Alpha décrit pour la première fois sa routine intégrale de la boule volante qu'il présente dans le monde entier. Il s'agit littéralement d'une grande illusion et d'un numéro de scène décrit pour le prix d'un DVD.
Alpha couvre aussi quelques effets spéciaux et d'autres creations magiques de son cru dans le domaine de la magie du feu. Egalement en Bonus, la description de l'impact de balle au cinéma.
Au Sommaire :


1/ Livre en feu télécommande
Ce livre en feu est très différent des modèles traditionnels. Il s'allume tout seul, et s'éteint tout seul. Parfait pour les effets fantomatiques et maisons hantées !
2/ Apparition d'une colombe d'un livre en feu
Alors que vous présentez votre livre en feu de manière on ne peut plus classique, refermez le livre, et ouvrez-le instantanément pour en faire apparaître une colombe bien vivante, du milieu du livre.
3/ Canne a disparition explosive en Streamer.
Ce n'est pas une simple canne a disparition. Celle ci disparait dans une explosion digne d'un film de Steven Spielberg et vous vous retrouvez à la place muni d'un streamer géant!
4/ Le journal qui s'allume tout seul
Voici une routine d'un journal qui prend feu lui-même. Vous pouvez être en train de lire le journal, et il prend feu tout seul, ou bien vous pouvez le placer dans un saladier, une cheminée, ou peu importe où. Quelques secondes après l'avoir déposé, le journal prend feu, d'un seul coup. Faisable avec un journal emprunté, de façon complétement fortuite.
5/ Torche en Éventail
Vous tenez une torche enflammée qui se transforme a vue en un magnifique éventail.
6/ Flamissimo
Finalement, la routine complète de la lévitation de la boule en feu expliquée en exclusivité et ici pour la première fois. Dans cet acte, une puis deux boules en feu volent en plein air, au milieu de la scène, au travers d'anneaux métalliques, et sans foulard ou autre matériel. L'effet de lévitation par excellence.
Effet Bonus : L'impact de balle au cinéma.
Vous l'avez vu de nombreuses fois dans tous les films d'action. Alpha explique une des multiple version pour réaliser l'effet de l'impact de balle sur une personne. Votre "victime" se met a saigner a mort lorsque vous avez tiré de votre pistolet invisible. Il n'y a pas de feu dans cet effet spécial, mais c'est indéniablement un bonus sympa pour ce DVD.
ATTENTION : La magie du feu peut présenter des risques si c'est mal préparé ou mal présenté. Magicaplanet n'est en aucun cas responsable de l'utilisation que vous ferez de ce DVD.


DVD en Francais et en Anglais
Duree approximative : 30 minutes

Return to the catalogue





We advise you with this product :
1.
Lit matches producer
3.5 €