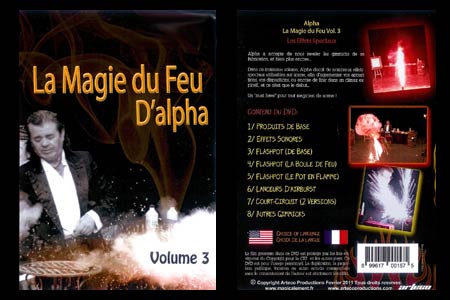 Description
Alpha a accepte de nous révéler les gimmicks de sa fabrication, et bien plus encore...
Dans ce troisième volume, Alpha décrit de nombreux effets spéciaux utilisables sur scène, afin d'agrémenter vos apparitions, vos disparitions, ou encore de finir dans un climax explosif, et ce n'est que le début...
Un "must have" pour tout magicien de scène !
Au Sommaire :


1/ Les produits de Base
Utilisables pour chacun des 4 volumes, Alpha décrit la liste des produits de base nécessaire pour réaliser les effets spéciaux, où les trouver, comment les préparer, etc...
2/ Les effets sonores
Coup de feu, coup de fusil et autres effets explosifs sonores sont au programme de ce chapitre. Utiliser de vrais effets sonores plutôt que des la sono d'un theatre renforce l'effet de surprise et donne une autre dimension a votre magie.
3/ Le flashpot de base
Le flashpot de base permet de creer un effet de fumee dans un bang retentissant, a l'aide de la poudre flash rapide, ou encore de creer un nuage de fumee a l'aide de la poudre lente. Alpha decrit egalement le type de flashpot que l'on trouve dans le commerce.
4/ Le Flashpot pour boule de feu
Dans cette version du flashpot, vous allez decouvrir comment creer un boule de feu de type champignon atomique sur scene. Cette version est somme toute simple et sans grand danger.
5/ Le flashpot a flammes
Cette version du flashpot decrit comment creer une flamme persistente qui ressemble a la flamme d'une fusee. Attention, cette version est potentiellement dangeureuse, et doit etre manipulee avec beaucoup de precautions
6/ Les lanceurs d'airburst
Alpha montre la facon dont les lanceurs sont faits, et comment les preparer. L'explosion d'un airburst ressemble a un feu d'artifice.
7/ Court Circuit
Cet effet donne l'illusion que vous creez un court-circuit en placant un tournevis dans une prise electrique.
8/ Les autres gimmicks
Dans ce chapitre final, Alpha propse 5 gimmick differents utilises pour differents effets speciaux.
ATTENTION : La magie du feu peut presenter des risques si elle est mal préparée ou mal présentée.
Alpha et le distributeur n'est en aucun cas responsable de l'utilisation que vous ferez de ce DVD.
DVD en Francais et en Anglais
Volume 3
Duree approximative : 40 minutes

Return to the catalogue





We advise you with this product :
1.
fire on hand
38 €

2.
Flames fingertips (*4)
14.5 €