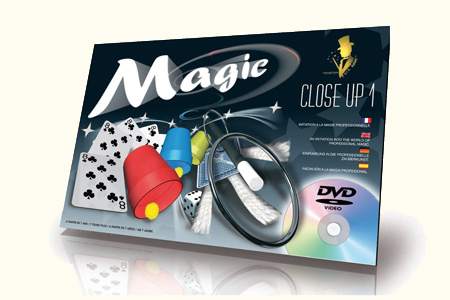 Description
Cette malette d'initiation au close-up vous apprendra vos premiers tours de magie.
Vous trouverez 6 accessoires de magie pour réaliser des dizaines de tours :
TÉLÉPATHIE
: Deux petites boites gigognes et un dé permettent de réaliser une extraordinaire expérience de télépathie.
Tout se passe au nez et à la barbe des spectateurs sans que personne ne puisse déceler le moindre trucage.
GOBELETS MAGIQUES
: Trois petites boules au pouvoir surnaturel vont tour à tour passer à travers des gobelets posés sur une table.
Un effet très visuel et qui est d'autant plus incroyable que les gobelets ne sont pas truqués. Un grand classique de la magie.
CARTES SVENGALI
: Une carte sélectionnée par un spectateur disparaît miraculeusement du paquet, réapparaît dans la poche du magicien et ensuite se multiplie à l'infini !
Grâce à un truquage absolument génial, le nombre de tours possibles avec ce jeu est sans limite.
LES ANNEAUX MAGIQUES
: Deux anneaux en métal enfilés dans deux cordons vont d'un coup de baguette magique traverser la matière, pour se retrouver entièrement libres entre les mains du magicien.
Une évasion réellement incroyable surtout que tout le matériel peut subir un examen approfondi.
CARTES CAMÉLEON
: Ce jeu de cartes regroupe trois procédés de magie permettant de réaliser des prédictions, des coïncidences ou bien encore des apparitions tout à fait troublantes.
Une baguette de magicien va par exemple automatiquement s'imprimer au milieu de la carte que vient de choisir un spectateur !
LES CORDES MAGIQUES
: Une corde courte, une corde moyenne et une corde longue vont dans les mains du magicien se transformer, sans aucune explication rationnelle, en trois cordes de même longueur.
Un claquement de doigt d'un spectateur et les cordes reprendront leurs configurations originales !
Le matériel fourni est de fabrication Française.
Réalisable à partir de 6 ans.
Notice en Français, Anglais, Espagnol, Italien et Allemand.
Explications et démonstrations fournies sur DVD.

Return to the catalogue


We advise you with this product :
1.
Stiff Rope
8 €

2.
Zig-Zag Card
9.5 €