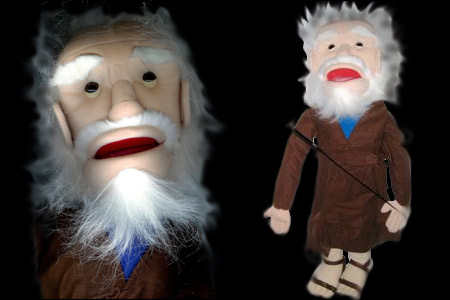 Description
Cette marionnette à tige de moine possède une superbe toge marron en tissu, chaussé de sandales. Le moine est coiffée de cheveux blancs dégarnis avec une barbe blanche!
Il pourra bien sûr bouger les lèvres et la tête mais aussi son bras que vous articulerez avec votre main pour lui donner plus de vie. Une marionnette qui amusera à coup sur les enfants!
Créez votre numéro de ventriloquie avec cette magnifique marionnette articulée. Donnez-lui un prénom, inventez des gags et divertissez vos spectateurs.
Les ventriloques pourront discuter avec leur marionnette, les clowns développeront son côté humoristique, les magiciens s'en serviront comme véritable assistant, les conteurs agrémenteront leurs histoires de commentaires…
Ces marionnettes, objets ludiques, pédagogiques et décoratifs, sont utilisées dans de nombreuses écoles et sont idéales pour les ventriloques, les marionnettistes, les représentations magiques à thèmes, les spectacles pour enfants, ou encore les théâtres de poupées..
Très facile à manipuler
Excellent rapport qualité/prix
Possède une tige pour articuler le bras
Taille : Environ 70 cm

Return to the catalogue


We advise you with this product :
2.
DVD Ventriloque Academy
35 €