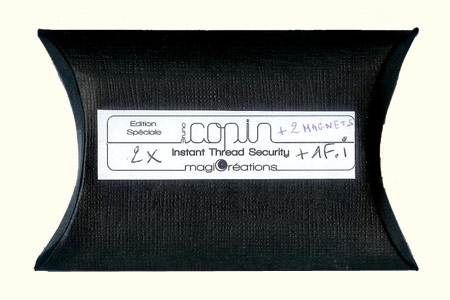 Description
Dans ce lot économique (Prix des produits séparées : 68,5 Euros), vous trouverez deux chargeurs de fil instantané (ITS), 2 aimants de rechange, ainsi que du Fil invisible Haute Qualité.
Les ITS vont vous servir à transporter votre fil sans qu'il ne s'emmêle dans votre poche. Il vous serviront également à remplacer un fil en direct (devant le spectateur) en cas de problème (cassure nœud, etc...).
Imaginez : vous êtes en plein tour et vous cassez votre fil ? Ne paniquez pas, cet outil vous permet d'en installer un autre en 30 secondes sans que le spectateur ne s'en rende compte !
Indispensable pour tous ceux qui utilisent le fil invisible et pour tous les magiciens qui souhaitent enrichir leur répertoire d'effets originaux !
Système de poche, l'ITS est magnétique, très pratique et facile d'utilisation.
Le matériel fourni
:
1 boîte packaging ;
2 ITS (composé de 2 tubes chacun) ;
2 aimants + 2 autres aimants de rechange ;
2 disque métal ;
1 fil invisible Haute Qualité ;
2 doses de gomme ;
Notices explicatives

Return to the catalogue


The items from this "Magic Set"
1.
ITS (Instant Thread Security)
34.5 €

We advise you with this product :
1.
Friend (Vol.1)
125 €

2.
Hummingbird reel
79 €