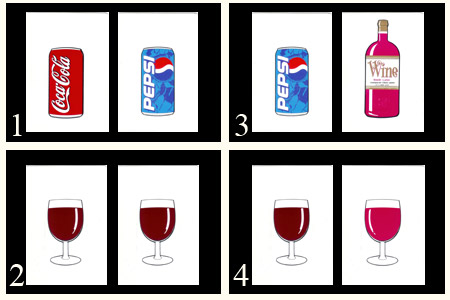 Description
Cette routine est très drôle et interactive ! Elle se réalise simplement avec deux cartes géantes (17 x 25 cm).
Le magicien présente deux cartes : l'une a sur la face le dessin d'une canette de Pepsi, et l'autre celui d'une canette de coca. Sur les dos de ces deux cartes sont représentés des verres identiques remplis d'un liquide de couleur marron, en l'occurrence du Pepsi et du Coca qui ont la même couleur.
Le but du jeu va être de retrouver lequel des deux verres est du Pepsi et lequel est du Coca ! Généralement, ce n'est pas très facile à différencier !
Le magicien mélange donc à plusieurs reprises les cartes, les spectateurs ne devraient avoir aucun problème à suivre les cartes et pourtant à chaque fois qu'ils essaient de deviner...ils se trompent ou réussissent (selon votre présentation)!!!
Pour terminer le magicien mélange le plus lentement possible. Donc cette fois, les spectateurs sont persuadés de la position de la canette de Coca. Pourtant, en la retournant, cette carte s'est transformée en celle de Pepsi ! Inexplicable !!!
Le plus drôle c'est que rien de mieux qu'une bonne bouteille de rosé (ou un jus d'orange) : en retournant le seconde carte, il ne s'agit plus d'une canette de Coca, mais d'une grande bouteille de rosé (ou une bouteille de jus d'orange selon le modèle que vous choisirez) !
Mais pourtant, le rosé c'est rose ! Ce n'est pas la même couleur que le coca ! En retournant de nouveau la carte, le verre qui se trouve au dos de la carte est maintenant rempli d'un liquide rose (ou orange) ! Excellent !
Très facile à présenter
Qualité professionnelle
Choix du final : Jus d'orange (choisir couleur orange) ou bouteille de rosé (choisir couleur rose)
Dimensions des cartes : 17 x 25 cm
Créé et fabriqué par le Talentueux Onosaka

Return to the catalogue


We advise you with this product :
1.
Coca-cola can Vanish
28 €

2.
Coke Bottle Vanish
26.5 €