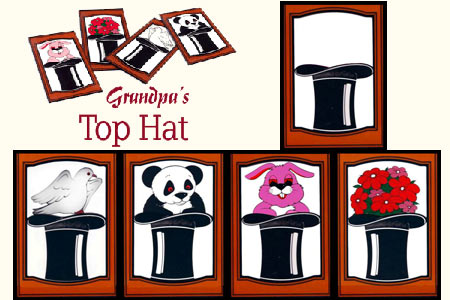 Description
Le magicien attire l'attention sur un cadre contenant le portrait du chapeau de magicien de son grand-père.
Ce chapeau est magique et il va le prouver...
Vous placez le cadre quelques instants derrière votre dos, et un petit lapin apparaît dans le chapeau.
Bien entendu, les enfants ne vous croiront pas car ils penseront que vous avez tout simplement retourné la cadre. Vous pouvez recommencer cela aussi longtemps que vous voudrez. Pour finir, vous montrez l'arrière du cadre, mais il représente un autre chapeau vide. Comment est-ce possible?
Vous continuez à prétendre que le chapeau a vraiment des pouvoirs magiques et, pour le prouver, vous retournez de nouveau le cadre et le chapeau à l'arrière du cadre contient maintenant une colombe!
Mais ce n'est pas tout, car vous retournez de nouveau le cadre et le chapeau contient un bouquet de fleurs. Mais ce n'est pas fini !!!
Car lorsque vous voulez de nouveau montrer la colombe, elle s'est entre-temps changée en un charmant petit panda!
Au final, le chapeau est de nouveau vide et peut être montré clairement des deux côtés. Rien de suspect à voir... seulement le vieux chapeau "enchanté" de grand-père...
Un accessoire à traiter avec soin pour en profiter longtemps
Numéro fantastique pour enfants
Matériel se qualité professionnelle

Return to the catalogue


We advise you with this product :
1.
Chapeau claque Pro
54.5 €