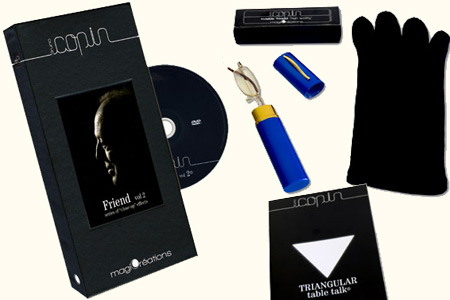 Description
Des cartes qui s'activent et bougent toutes seules sur la table, une présence invisible qui fait bouger des objets mystérieusement, avec Bruno les objets prennent vie et s'animent à distance, ce qui provoque une émotion inexplicable chez le spectateur.
Voulez-vous à votre tour faire rêver vos spectateurs avec des effets surréalistes remplies de poésie ?
Voici le fameux deuxième volume d'une incroyable série d'effets originaux de « close-up » créés et scénarisés par le talentueux Bruno Copin.
La production est magnifique (qualité d'image exceptionnelle, décor très travaillé). Les explications sont filmées en multiangles interactifs, rendant le film très dynamique. Le DVD est donc très agréable à regarder.
Du matériel bien spécifique est fourni avec chaque coffret. La qualité de chaque élément a été la préoccupation principale dans la réalisation de ces produits.
Dans ce kit, vous trouverez tout d'abord auprès du DVD en Français, votre dose de fil professionnel. Vous aurez également un élégant gant pour l'effet de l'homme invisible. Vous trouverez également des lunettes pour mieux y voir.



Au Sommaire :
- L'homme invisible ; " Un effet surréaliste avec un gant "
- Volontaire ; " sortez du rang !"
- Saint Exupery ; " entendez vous l'avion qui passe ? "
- Ricochets ; "un double miracle très VISUEL sur table ! "
- Surf ; "Une superbe fioriture qui mérite d'être étudiée "
- L'amant dans le placard ;" Un effet stupéfiant "Malle des Indes" avec des cartes Le scénario donne un vrai sens à cet effet ravageur sur le public".
- Fioritures ; " Un mix d'acrobaties filistes "
- C'était vous (non expliqué). Une carte postale signée est retrouvée dans une enveloppe scellée
Kit de qualité
Idéal pour débutants comme pour confirmés
Magie belle et touchante
DVD de 8 routines en Français très didactique.
Tout le matériel nécessaire aux routines.

Return to the catalogue


You can find this magic item in :
1.
Lot Best of Copin
205 €