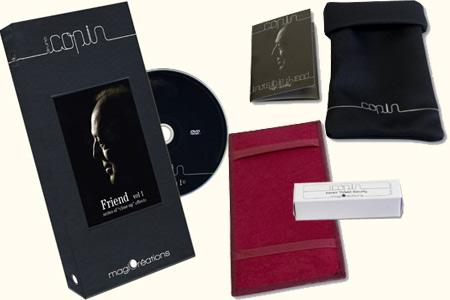 Description
Des cartes qui s'activent et bougent toutes seules sur la main d'un spectateur, une cigarette qui roule sur la table sans que le magicien ne la touche, avec Bruno les objets prennent vie et s'animent à distance, ce qui provoque une émotion inexplicable chez le spectateur.
Voulez-vous à votre tour faire rêver vos spectateurs avec des effets surréalistes remplies de poésie ?
Voici le fameux premier volume d'une incroyable série d'effets originaux de « close-up » créés et scénarisés par le talentueux Bruno Copin.
La production est magnifique (qualité d'image exceptionnelle, décor très travaillé). Les explications sont filmées en multiangles interactifs, rendant le film très dynamique. Le DVD est donc très agréable à regarder.
Du matériel bien spécifique est fourni avec chaque coffret. La qualité de chaque élément a été la préoccupation principale dans la réalisation de ces produits.
Dans ce kit, vous trouverez tout d'abord auprès du DVD en Français, votre premier ITS qui est un outil de transport ou de dépannage en cas de cassure. Vous aurez également un élégant tapis de close-up de poche astucieusement truqué ainsi qu'un magnifique sac en tissu. Bien évidement le gimmick essentiel en matériau très résistant vous sera fournit.



Au Sommaire :
- Effet papillon ; " magie et poésie...dans la main du spectateur ! "
- Cigarette qui roule ; " Une comédie humoristique agrémentée d'une fausse explication toujours apprécié du public".
- Pichet magique ; "Le spectateur devient magicien à son tour".
- Grande Évasion ; " Un vol très subtil . Houdini aurait pu en être le titre "
- Houlette ; " Une utopique Rising Card que l'on peut refaire sans cesse , meme dans la main du spectateur "
- Détecteur de mensonges ; " Levez la main droite et dites je le jure "!
- Le rêve d'Icare (non expliqué) ; " Lévitation idyllique d'une carte".
- C'est pas dans la poche ; " Une incroyable version originale des cartes à la poche".
Kit de qualité
Idéal pour débutants comme pour confirmés
Magie belle et touchante
DVD en Français très didactique.
Tout le matériel nécessaire aux routines.

Return to the catalogue


You can find this magic item in :
1.
Lot Best of Copin
205 €

We advise you with this product :
1.
Kevlar invisible thread (Black)
9.5 €

2.
Tarantula (Y. Mesika)
69 €

3.
Friend (Vol.2)
125 €