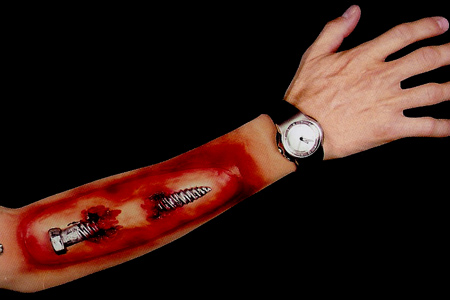 Description
Faites une surprise ensanglantée à vos amis !
Grâce à cet accessoire, vous allez présenter une grande blessure bien gore sur votre avant bras pour surprendre votre entourage.
Utilisez-le également pour un effet spécial en magie ! Imaginez que vous vous donnez un coup au bras pendant votre numéro, vous relevez la manche de votre veste, et là, les spectateurs constatent avec dégoût que vous vous êtes profondément blessé !
De quoi tomber dans les pommes !


Manche à enfiler sur votre bras
Blessure réaliste
Il est conseillé de rajouter du faux sang
Montre non fournie
Longueur de la manche : 32 cm

Return to the catalogue


We advise you with this product :
1.
Thick Fake Blood
3.5 €

2.
Liquid Fake Blood
4.5 €