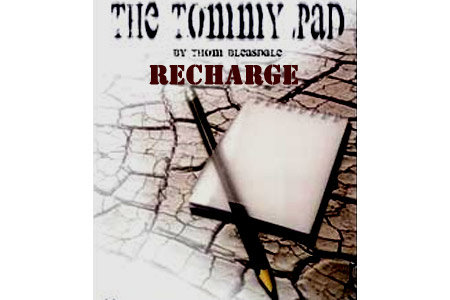 Description
La recharge du Tommy pad comprend uniquement un
Bloc notes + 2 grandes feuilles spéciales
.
The Tommy pad est le
meilleur accessoire qui existe pour un mentaliste
.
Ce bloc-notes incroyable va révolutionner toutes vos routines de mentalisme.
Vous ne pourrez plus vous en passer !
Imaginez que votre spectateur écrit quelque chose sur une feuille d'un bloc-notes, il arrache ensuite cette feuille, il la plie, et la garde dans sa main ou dans sa poche. Vous reprenez le bloc-notes et le rangez. Vous mettez ensuite vos mains sur ses épaules, et vous le regardez fixement dans ses yeux.
Après un instant de silence et de concentration vous dites mot pour mot ce que le spectateur a écrit sur la feuille qui se trouve dans sa poche.

Les applications de cet accessoire n'ont pas de limites, vous pourrez créer des routines incroyables, inexplicables, voir même terrifiantes, selon votre personnalité, étant donné que vous pourrez lire dans les pensées de n'importe qui.

Return to the catalogue


We advise you with this product :
2.
DVD Pur Mental (Vol.1)
32 €