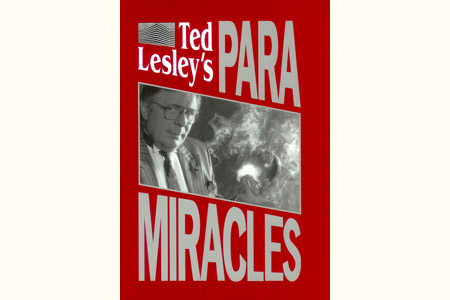 Description
Si vous êtes intéressé par les phénomènes de psychokinèsie et de psychométrie, si vous avez un faible pour les effets de divination et de prémonition ; en un mot,
si vous adorez les tours de mentalisme et de magie bizarre, alors vous aimerez cet ouvrage
paru en français dans une excellente traduction de Richard Vollmer.
Ted Lesley
est l'un des rares professionnels du mentalisme à pouvoir transformer un effet classique en véritable miracle. Les américains ne s'y sont pas trompés : ils furent les premiers à traduire cet ouvrage. Et depuis sa sortie des presses il y a deux ans, ils ont déjà dû le réimprimer tant son succès fut immédiat.
Voici quelques effets que vous serez en mesure de produire après la lecture de Paramiracles
• Vous pourrez prédire infailliblement les grands titres de votre quotidien régional ou national, des jours, voire des semaines, à l'avance.
• Vous pourrez tordre le manche d'une petite cuillère jusqu'à ce qu'il ressemble à un tire-bouchon, et ce apparemment, grâce à votre seul pouvoir de concentration mentale.
• Vous serez en mesure de défier les lois de la gravité terrestre avec du vin dans un verre tenu par un spectateur.
• Vous pourrez faire disparaître une carte à jouer signée pour la faire réapparaître dans une enveloppe confiée à un spectateur et fermée par lui avant même que la carte ne soit choisie !
• Vous ferez se tordre le pied d'un verre à vin – à vue ! – sous le seul effet de votre pouvoir de concentration. Expérience stupéfiante que Ted Lesley ne manque jamais de présenter en direct lors de ses fréquentes apparitions télévisuelles.
• Et bien d'autres effets du quatrième type seront à votre portée. Pour plus de détails, étudiez le sommaire complet de ce livre stupéfiant écrit par l'un des meilleurs mentalistes au monde.
Au Sommaire :


Chapitre 1 : METTEZ DU RELIEF DANS VOTRE MAGIE !
La carte dédoublée – La carte à relief de Will De Seive – La carte à relief de Jontay – La carte de Koornwinder – La carte pyramidale – Le principe – Le rapport Kismet – Deux jeux, une seule pensée – La cour des miracles – Mettez un médium dans votre poche ! – Alpha – Nap – Longueur d'onde (deux variantes) – Trivial Pursuit - Version améliorée – Le Fantôme de l'Opéra - Version pour la scène.
Chapitre 2 : VOUS AVEZ VOS PAPIERS ?

Pas touche ! – Magie noire – Le papier déchiré et brûlé.
Chapitre 3 : ARMES FATALES

Vous avez de la monnaie ? Le bloc à échange – Service de renseignements – Des jeux de rêve – Le jeu à symboles – Effets pour un auteur invisible – La divination d'un mot dans un livre – Les vivants et les morts – Pseudo-psychométrie – Le coin du mentaliste – La nappe du mentaliste - Le scarabée d'or - Le mort-vivant - Le jeu hanté - Plus fort que Geller !
Chapitre 4 : PRÉMONITION
Chapitre 5 : EXERCICES EN PSEUDO-PSYCHOMÉTRIE

Graphologie – Double aveugle – Magie noire.
Chapitre 6 : L'ENVELOPPE TÉLÉKINÉTIQUE

Serial Killer – La carte ailée – Un message de l'au-delà – Du vent dans les branches de sassafras – Construction de l'enveloppe télékinétique.
Chapitre 7 : INCROYABLE, MAIS VRAI !

Nouvelles de dernière heure – Plus fort que le Minitel – Newton ? Connais pas ! – Signes particuliers – La part du feu – Dernière édition !
Chapitre 8 : ENCORE PLUS FORT QUE GELLER
230 pages largement illustrées
Format 16,5 x 23,5 cm
Relié - Impression offset
Livre en Français

Return to the catalogue




We advise you with this product :
1.
Kevlar invisible thread (Black)
9.5 €