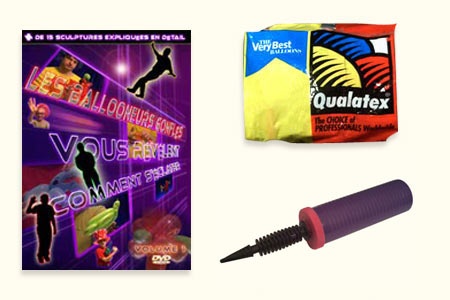 Description
Ce lot vous permet d'économiser 10€ !
Une belle occasion pour vous mettre à la sculpture sur ballons !
Devenez ballooneur professionnel !
La sculpture de ballons est très demandée dans le cadre d'animations diverses auprès du jeune public.
Rajoutez cette compétence à votre CV en apprenant à sculpter avec ce
DVD très drôle et complet
, fournit avec
un sachet de 100 ballons Qualatex
de qualité professionnelle et une
grande pompe Qualatex
.
Ce lot contient
:
Une grande pompe Qualatex
Une fois essayé, elle vous semblera indispensable. Cette pompe gonfle dans les 2 sens quand vous appuyez mais aussi et surtout quand vous tirez, ce qui vous permet de gonfler vos ballons 2 fois plus vite.
Un sachet de 100 ballons Qualatex
Ces ballons à sculpter sont d'une qualité exceptionnelle : très résistants et élastiques. Qualatex est indéniablement la référence mondiale dans le domaine de la sculpture sur ballons ! Poche d'un assortiment de 100 ballons 260Q de couleurs classiques.
Le DVD Les Ballooneurs Gonflés
Vous y découvrirez une magie des ballons décalée, originale, décapante et pleine d'humour. Plus de 17 figures différentes.
AU SOMMAIRE :
Le Chien
Le Lapin
Le Cygne
Le Dauphin
La Tortue

Le Crocodile
La Grenouille
Le Pingouin
L'Oiseau
La Mouette
Le Serpent
La Fleur
La Moto
La Chenille
Le Caniche
L'Eléphant
Le Perroquet
Bonus :
Le bêtisier + de nombreux gags
Langue : français
Durée : 1h45.

Return to the catalogue


The items from this "Magic Set"
1.
DVD Les Ballooneurs Gonflés
28 €

3.
Qualatex 260Q balloon
8.95 €