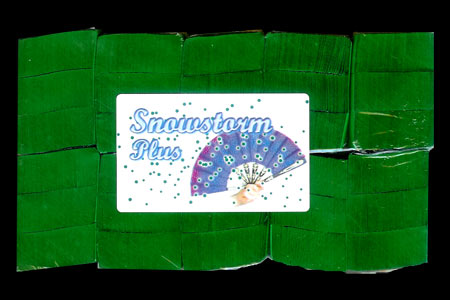 Description
La neige japonaise est un bloc constitué de milliers de
petits morceaux de papiers très fins compactés
afin de pouvoir les stoker facilement, par exemple à l'intérieur d'une charge.
Ce matériel est
indispensable à tout magicien
travaillant sur scène. Elle peut être dans certains cas utilisée en close up comme avec le « Card Kabuki ».
Les applications sont infinies : n'importe quelle apparition accompagnée d'une pluie de neige japonaise sera bien
plus visuelle et magique
qu'une simple apparition.
Utilisez-la pour vos parapluies, vous foulards, vos éventails, pour déchirer un papier qui se transforme en une pluie de papiers fins…
La neige japonaise va donner un aspect très magique et visuel car elle va remplir votre scène en
tombant lentement comme des plumes
. Essayez-la également en utilisant des ventilateurs pour un
final extraordinaire !!!
Vendue par 10 blocs (dimensions de la recharge : 5 x 3,5 x 1,2 cm)
Couleur : Vert

Return to the catalogue


We advise you with this product :
1.
Multicolor appearing umbrella - unit
21.5 €

2.
Silk handkerchief 36
145 €

3.
Blooming bouquet (3 blooms)
95 €