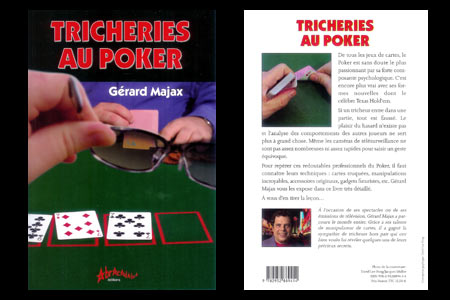 Description
De tous les jeux de cartes, le Poker est sans doute le plus passionnant par sa forte composante psychologique.
C'est encore plus vrai avec ses formes nouvelles dont le célèbre Texas Hold'em.
Si un tricheur entre dans une partie, tout est faussé. Le plaisir du hasard n'existe pas et l'analyse des comportements des autres joueurs ne sert plus à grand chose. Même les caméras de télésurveillance ne sont pas assez nombreuses ni assez rapides pour saisir un geste équivoque.
Pour repérer ces redoutables professionnels du Poker, il faut connaître leurs techniques : cartes truquées, manipulations incroyables, accessoires originaux, gadgets futuristes, etc.
Gérard Majax vous les expose dans ce livre très détaillé.
À vous d'en tirer la leçon…
Au Sommaire :

Avertissements
I- Cartes truquées
II- Chimie en service
III- Optique secrète
IV- Accessoires miraculeux
V-Électronique complice
VI- Manipulations à l'appui
VII- Tricheurs de génie
VIII- Stratégies
IX- Police des jeux
X- A vous de jouer


Livre en Français
143 pages illustrées

Return to the catalogue




We advise you with this product :
1.
BEE Cards
4 €