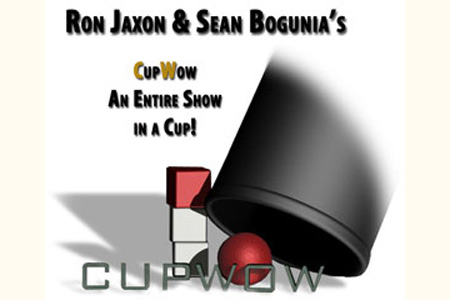 Description
Le CupWow tant attendu est enfin disponible ! En effet,
Ron Jaxon et Sean Bogunia
ont uni leurs efforts pour révolutionner l'une des pièces les plus anciennes de l'histoire de la magie : le gobelet !
Les
diverses possibilités
que vous offre cet appareil sont énormes ! Vous pourrez créer vos propres routines et vos effets. Ce gobelet vous permet de réaliser des disparitions, apparitions ou changes de folie ! Très propres et pourtant si faciles !
Visionnez la vidéo pour avoir une idée de la
variété d'effets
que vous pouvez accomplir avec CupWow !
Avec CupWow vous pouvez :
- Faire
léviter des objets
et défier la gravité !
-
Disparitions, apparitions, changes d'objets
!
- Réaliser les
routines de dés
de Jaxon !
- Et beaucoup, beaucoup plus!
Plusieurs astuces plus ou moins connues dans le milieu de la magie ont été réunies dans un même objet qui à l'air pourtant si banal. De plus, cet incroyable gobelet
peut être montré de très près. Le mécanisme qu'il contient est très fiable.
Un DVD d'explications va vous décrire toutes les routines qui ont été pensées par Sean Bogunia et son ami Ron Jaxon.
CupWow est livré avec tout ce dont vous avez besoin pour démarrer. Chaque CupWow est
fabriqué maison, et est personnellement testé par Ron Jaxon ou Sean Bogunia avant qu'ils ne soient expédiés !
Vous ne serez pas déçu !
CupWow est livré avec:
* Le gobelet noir CupWow
* Les cubes de Ron Jaxon
* Une balle aimantable
* De la patte pour fabriquer vos propres boules
* DVD d'instruction - Enseigne tout ce que vous devez savoir sur votre gimmick CupWow. Enseigne également une variété de mouvements et routines que vous pouvez faire avec CupWow.
Véritable révolution magique
Facile à utiliser
Trois astuces en un objet
Peut être montré de près
Livré avec tout le matériel nécessaire
DVD en anglais

Return to the catalogue


We advise you with this product :
1.
Super Strong Invisible Thread
16.5 €