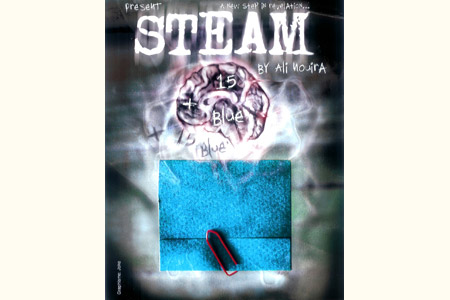 Description
Steam est une révolution dans le domaine du mentalisme !
Le magicien demande à un spectateur de penser par exemple à une carte au choix. Pendant que le magicien à le dos tourné, le spectateur écrit son choix sur un bout de papier épais, replie ensuite celui-ci en deux, et l'agrafe tout autour. Le papier est donc plié et agrafé, il est impossible d'accéder à l'information inscrite par le spectateur.
Pourtant, le magicien sort un jeu de cartes, puis se concentre sur son spectateur. Il sort alors une seule carte du jeu, c'est la carte pensée du spectateur !
Il est possible d'utiliser autre chose que des cartes : une lettre, des initiales, un chiffre, bref pleins de possibilités sont offertes avec ce concept.
Ce nouveau concept d'acquisition d'information est tellement
propre, rapide et efficace
que vous allez pouvoir
donner une nouvelle dimension à vos routines de mentalisme.

La méthode est géniale, invisible,
vous ne touchez même pas le papier durant toute la routine !
Acquisition d'information très rapide et propre
On ne touche même pas au papier du spectateur
Une révolution pour le mentalisme
Création Ali Nouira
Secret très ingénieux
Tour facile à faire
S'adapte à n'importe quelle présentation
Livré avec tout le matériel
Notice en Français

Return to the catalogue


We advise you with this product :
1.
Ash Pen Pro
16.5 €