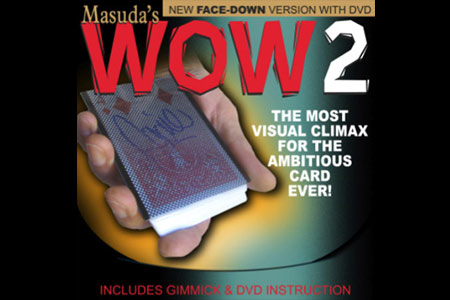 Description
Après l'énorme succès du fabuleux WOW,
Masuda crée le WOW 2
, un gimmick partant du même concept qui laissera vos spectateurs sans voix !
Wow 2 va constituer un
climax incroyable
à votre routine de
carte ambitieuse !
Le gimmick est identique au WOW, mais cette fois, il s'agit d'un dos bicycle rider back qui va se transformer en la face signée de la carte du spectateur. C'est donc une carte ambitieuse à vue !!!
La transformation est super visuelle !
Les deux routines suivantes vous seront présentées et révélées sur le
dvd explicatif inclus
, dans les moindres détails :
Wow ambitious
:
A la fin de votre routine de carte ambitieuse annoncez au spectateur que vous allez réaliser de nouveau l'effet, mais cette fois sans toucher au jeu.
Placez pour cela deux plaques de plastique transparent (préalablement examinées) autour de votre jeu, et maintenez l'ensemble à l'aide d'un élastique. Toute manipulation ou tentative de triche devient dès lors totalement impossible.
Perdez la carte signée du spectateur dans le milieu du jeu, puis invitez-le à se concentrer sur la plaque de plastique transparent située sur le dessus.
La carte signée du spectateur apparaît à vue sur le dessus du jeu !
Color Changing Deck
:
Transformez visiblement en une fraction un jeu de cartes bleu en un jeu à dos rouge !
Gimmick identique au Wow classique
Le Wow sleeve fonctionne également pour celui-ci
Apparition ou disparition d'un dos de carte bicycle Rider back de couleur rouge
Fabrication originale de Masuda
DVD en anglais par Chris Ballinger

Return to the catalogue


We advise you with this product :
1.
Wow Sleeve
13.5 €