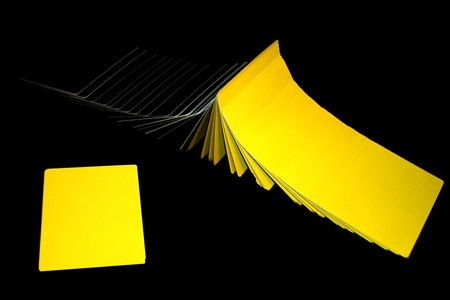 Description
Voici un jeu de
52 cartes de manipulation
unicolores de
très bonne qualité
.
Elles sont
fines, souples, avec une très bonne élasticité
.
De plus, elles sont
traitées avec de la poudre spéciale (Poudre à Eventail)
qui leurs permettent de glisser les unes aux autres afin d'effectuer de beaux éventails.
Grâce à leurs dos de couleur noir, elles seront
indétectables
sur un fond de scène noir ou si vous-même êtes habillés en noir, et permettront un empalmage parfait.
De par leur extrême finesse, vous pourrez en
empalmer un plus grand nombre
que des cartes normales. Leurs côté coloré rendront vos
productions encore plus visuelles
.
52 cartes fines souples et élastiques
Poids total :
56 g contre 94 g pour un jeu classique
Cartes au format POKER (6,2 x 8,6 cm)
Tarot couleur noir
Face unicolore

Return to the catalogue


You can find this magic item in :
We advise you with this product :
1.
Fanning Powder
5 €